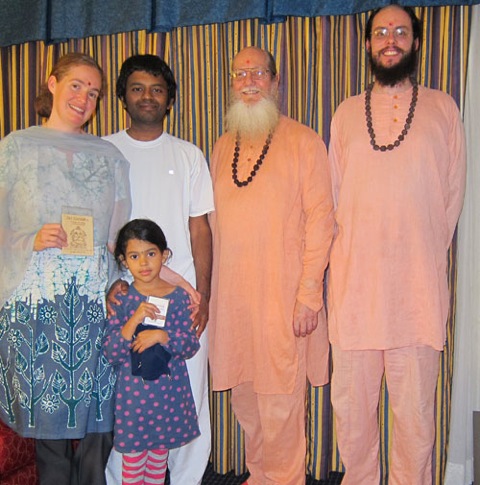 Shanmuganathaswami and Siddhanathaswami are in Los Angeles and met with Mayuran and Amanda Muttulingam, avid readers of the Master Course trilogy. The two swamis gave their daughter Lalitha a gift of the Devatrek playing cards. Five year old Lalitha is an expert Go Fish player, and the four games which may be played with the Devatrek cards are an exciting new challenge to her playing cards skills. We look forward to her beta testing comments on the games. The cards are available at our www.minimela.com eStore along with many other books and artwork for kids. Amanda is holding a prototype wood etch with Ganesha on the front and Aum Gam Ganapataye on the back. This was designed by our new monk, Sadhaka Mayuranatha, and etched on our Epilog wood etcher. Lalitha will place the Ganesha next to her bed to remind her of Ganesha before sleep.
From Our Gurus' Teachings
Bodhinatha's Latest Upadesha:"Activating Kundalini; Patanjali's Kriya Yoga" (March 28, 2015)

Unless kundalini is active, the deepest meditative states are not available to us. But to activate kundalini, Gurudeva tells us we must invoke the grace of Lord Ganesha and Lord Murugan. "Yoga is internalized worship which leads to union with God." Experience the inside of you in a profound way. This requires dispassion. The popular term "kriya yoga" usual refers to a form of pranayama, but the original kriya yoga is defined by Sage Patanajli as the practice of three of the niyamas: tapas, svadhyaya and Isvarapranidhana. To achieve samadhi we practice yoga, steady restraint of mental activities, austerity, meditation, detachment, self study and worship of God. Communion with the Ishta Devata, the chosen God is a key and also Gurudeva tells us: the Deity chooses you.

Master Course, Dancing with Siva, Lesson 39
Master Course, Merging with Siva, Lesson 5
Patanjali's Yoga Sutras

Click here for all recent talks
Archives are now available through 2001. Light colored days have no posts. 1998-2001 coming later.
Subscribe to RSS Feed