Bodhinatha is speaking at the Radha Krishna temple of the Hindu Association of West Texas in Midland. #
Bodhinatha is heading to Lubbock to speak for the first time to a fledgling Hindu group there. #
Powered by Twitter Tools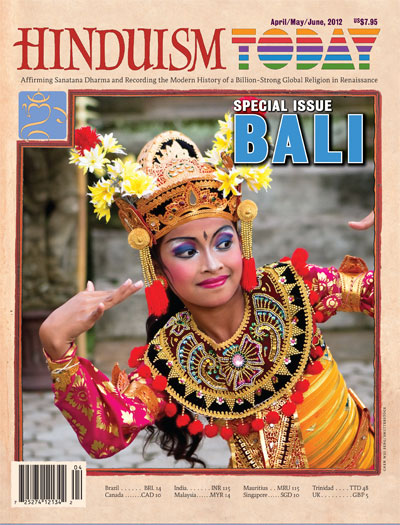 The latest issue of Hinduism Today for April/May/June 2012 may be ordered online at www.minimela.com in single copies and in multiple copies at discounted prices. This issue focuses on the Hinduism of Bali where we experience the people and explore the temples of this unique Hindu outpost.
Read about the history of Hindus settled in Bali and the Lontar palm-leaf manuscripts which reflect Bali's connection with ancient India. An expatriate Australian married to a Balinese shares her keen cultural insights, and we tease you with a sampling of the arts, music, painting and dance which permeate Bali's spirit and unique forms.
Dare we speak about Nyepi, the day of silence, when all of Bali comes to a complete stop. And how do Hindus inside and outside of Bali understand their tradition of animal sacrifice? Find out all about this controversial practice in this issue. Discover why Bali's cremation rites reflect a cogent understanding of the soul's passage, and we conclude our Balinese issue with Bali's reflective response to the 2002 terror attacks which stunned the world.
Satguru Bodhinatha Veylanswami discusses how our soul matures slowly over time in this issue's Publisher's Desk, and Dada Vaswani gives a presentation on Atma Vidya, the science of the Self.
The Insight section features the traditional wedding with a pictorial summary for Hindus in the diaspora.
And, as usual, read our regular digests on Global Dharma, Quotes & Quips and Digital Dharma. With stunning photos and in-depth articles you don't want to miss this special issue on Bali!

Satguru Bodhinatha Veylanswami and Sannyasin Senthilnathaswami are in West Texas. The first event was a satsang at the home of Mrunal and Padmaja Patel in Midland, attended by around 50 devotees from the tight-knit Hindu community here. Mrunal and Kulapati Easan Katir performed a beautiful pada puja to Bodhinatha, followed by a beautiful rendering of Yogaswami's Natchintanai, "Engal Gurunathan." An upadesha followed, including a rich question-and-answer session.

As attendees were enjoying prasadam, the swamis, the Patel family and Easan Katir, who is visiting from Davis, California, for this event, retired to the family's beautiful shrine room for a special ceremony. Following a powerful Mahaganapati puja by Senthilnathaswami, Mrunal, Padmaja and Mrunal's mother, Hansa, read and signed the four vows--Ahimsa, Shakahara, Kailasa Parampara and Dashama Bhaga. These vows bring them into a status of probationary membership in Saiva Siddhanta Church called arulsishya, literally "disciples by grace." They are joining the extended family of Kulapati Easan and Kulamata Sundari Katir; thus Easan was here to sign as witness to their vows. It was a special and auspicious moment for the family, who has been studying the Master Course and preparing for about five years.

In the evening, Bodhinatha was hosted at the home of Dr. Chittur and Mala Ramanathan in Odessa. The Ramanathans are originally from the village of Vaitheeswarankoyil in Tamil Nadu, in Kumbakonam district. The Vaitheeswarar Temple is a famous, powerful temple where Siva resides as the Healer, and many miracles are associated with the temple, including modern-day. The family knew Gurudeva in San Francisco in the early 1980s; their son Karthik's head was personally shaven by Gurudeva in a chudakarana samskara at our temple there. Fond memories of Gurudeva, stories about Vaitheeswarankoyil and another rich (two-hour!) discussion ensued before prasadam was offered in their shrine room and served.
From Our Gurus' Teachings
Bodhinatha's Latest Upadesha: "Detachment from Experiences; Importance of Daily Vigil" (May 5, 2013)
All experiences are good experiences, necessary to get us here. Awareness of aspects of ourselves that are constantly changing is a liberating perception, breaking our chains to mundane areas, detaching from instinctive and intellectual to go into superconscious. The greatest challenge facing youth today is the lack of relating to the devotional side of Hinduism. Daily practice, daily vigil, moves us forward spiritually. Commentary on Merging with Siva, The Master Course, Lesson 21.
Listen Now
Click here for all recent talks
Our archives are in the process of being migrated from the old site. Please check back later.
Subscribe to RSS Feed