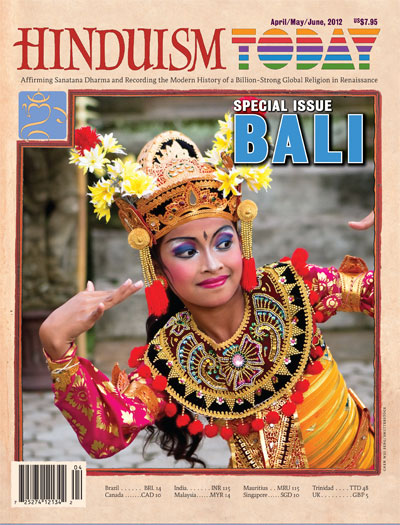 The latest issue of Hinduism Today for April/May/June 2012 may be ordered online at www.minimela.com in single copies and in multiple copies at discounted prices. This issue focuses on the Hinduism of Bali where we experience the people and explore the temples of this unique Hindu outpost.
Read about the history of Hindus settled in Bali and the Lontar palm-leaf manuscripts which reflect Bali's connection with ancient India. An expatriate Australian married to a Balinese shares her keen cultural insights, and we tease you with a sampling of the arts, music, painting and dance which permeate Bali's spirit and unique forms.
Dare we speak about Nyepi, the day of silence, when all of Bali comes to a complete stop. And how do Hindus inside and outside of Bali understand their tradition of animal sacrifice? Find out all about this controversial practice in this issue. Discover why Bali's cremation rites reflect a cogent understanding of the soul's passage, and we conclude our Balinese issue with Bali's reflective response to the 2002 terror attacks which stunned the world.
Satguru Bodhinatha Veylanswami discusses how our soul matures slowly over time in this issue's Publisher's Desk, and Dada Vaswani gives a presentation on Atma Vidya, the science of the Self.
The Insight section features the traditional wedding with a pictorial summary for Hindus in the diaspora.
And, as usual, read our regular digests on Global Dharma, Quotes & Quips and Digital Dharma. With stunning photos and in-depth articles you don't want to miss this special issue on Bali!
4 Responses to "New Hinduism Today Issue on Balinese Hindus"
From Our Gurus' Teachings
Bodhinatha's Latest Upadeshas - Who is Lord Murugan, Proper Approach to Penance
Who is Lord Murugan? Path to Siva, Lesson 27, Commentary

The blessings of Lord Murugan awaken wisdom which resides in his chakra. "Pray to Lord Murugan to unravel the great mysteries of the universe." When we get emotional we lose touch with our wisdom. Murugan inspires penance to soften karmas and purify the mind, chitta-shuddhi. If you do kavadi in the right spirit, to get the full blessing, have in mind specific misdeeds, apologize to the deity, learn from it, promise to do your best. Visions are still happening. Feeling the energy of the deity is stronger during festivals such as Skanda Shashti.

Path to Siva, Lesson 27.

---

Click here to go to an index of all of Bodhinatha's and Gurudeva's online audio.
Archives are now available through 2001. Light colored days have no posts. 1998-2001 coming later.
Subscribe to RSS Feed