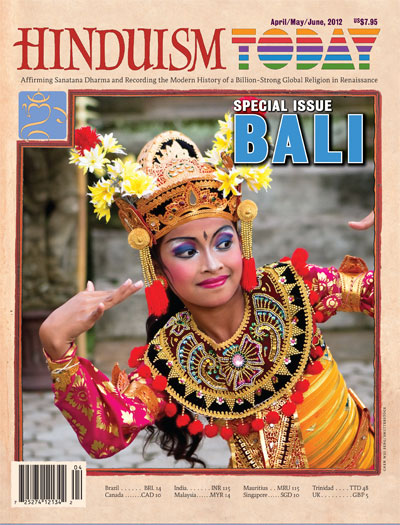 The latest issue of Hinduism Today for April/May/June 2012 may be ordered online at www.minimela.com in single copies and in multiple copies at discounted prices. This issue focuses on the Hinduism of Bali where we experience the people and explore the temples of this unique Hindu outpost.
Read about the history of Hindus settled in Bali and the Lontar palm-leaf manuscripts which reflect Bali's connection with ancient India. An expatriate Australian married to a Balinese shares her keen cultural insights, and we tease you with a sampling of the arts, music, painting and dance which permeate Bali's spirit and unique forms.
Dare we speak about Nyepi, the day of silence, when all of Bali comes to a complete stop. And how do Hindus inside and outside of Bali understand their tradition of animal sacrifice? Find out all about this controversial practice in this issue. Discover why Bali's cremation rites reflect a cogent understanding of the soul's passage, and we conclude our Balinese issue with Bali's reflective response to the 2002 terror attacks which stunned the world.
Satguru Bodhinatha Veylanswami discusses how our soul matures slowly over time in this issue's Publisher's Desk, and Dada Vaswani gives a presentation on Atma Vidya, the science of the Self.
The Insight section features the traditional wedding with a pictorial summary for Hindus in the diaspora.
And, as usual, read our regular digests on Global Dharma, Quotes & Quips and Digital Dharma. With stunning photos and in-depth articles you don't want to miss this special issue on Bali!
4 Responses to "New Hinduism Today Issue on Balinese Hindus"
From Our Gurus' Teachings
Bodhinatha's Latest Upadeshas:"Mahasivaratri, 2105 Upadesha: Nine Ways to Merge with Siva; The Nature of Liberation" (February 16, 2015)
"Attenuating the Obstacles to Meditaion" (February 20, 2015)
Mahasivaratri: The celebration of Mahasivaratri is to have a deeper experience of God. Realization, liberation and merger. Nine progressive ways to merge with Siva. Parasiva, the eighth: becoming and being timeless, formless, spaceless. Vishvagrasa, the ninth: merger. The mystic looks at the world, doesn't see matter, sees God. Nothingness: If we can trace energy in to its source then that's how we could dissolve ourself into that nothing....

Sun One, Feb. 16, 2015Understanding keys to the mind and transformation. Kriya, the yoga of action, comprised of tapas, svadhyaya and Ishvara pranayama. Living in the soul nature; attenuating the kleshas. Detaching from the world. Giving up attractions and aversions, limitations, clinging to life, wanting to be finite and ignorant. Ignorance is thrown off when we stop looking outside. Warming up to the idea of being omnipresent and all knowing.

Click here for all recent talks
Archives are now available through 2001. Light colored days have no posts. 1998-2001 coming later.
Subscribe to RSS Feed