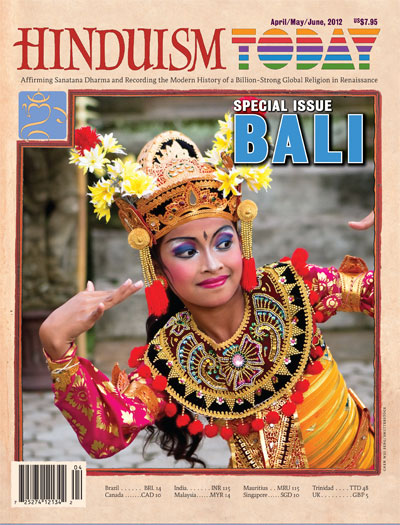 The latest issue of Hinduism Today for April/May/June 2012 may be ordered online at www.minimela.com in single copies and in multiple copies at discounted prices. This issue focuses on the Hinduism of Bali where we experience the people and explore the temples of this unique Hindu outpost.
Read about the history of Hindus settled in Bali and the Lontar palm-leaf manuscripts which reflect Bali's connection with ancient India. An expatriate Australian married to a Balinese shares her keen cultural insights, and we tease you with a sampling of the arts, music, painting and dance which permeate Bali's spirit and unique forms.
Dare we speak about Nyepi, the day of silence, when all of Bali comes to a complete stop. And how do Hindus inside and outside of Bali understand their tradition of animal sacrifice? Find out all about this controversial practice in this issue. Discover why Bali's cremation rites reflect a cogent understanding of the soul's passage, and we conclude our Balinese issue with Bali's reflective response to the 2002 terror attacks which stunned the world.
Satguru Bodhinatha Veylanswami discusses how our soul matures slowly over time in this issue's Publisher's Desk, and Dada Vaswani gives a presentation on Atma Vidya, the science of the Self.
The Insight section features the traditional wedding with a pictorial summary for Hindus in the diaspora.
And, as usual, read our regular digests on Global Dharma, Quotes & Quips and Digital Dharma. With stunning photos and in-depth articles you don't want to miss this special issue on Bali!
4 Responses to "New Hinduism Today Issue on Balinese Hindus"
From Our Gurus' Teachings
Bodhinatha's Latest Upadeshas: "Not Getting Upset, Viewing Reaction from Higher Faculties" (September 14, 2014)
A measure of how serious we are in making spiritual progress is that we've learned the lesson from experience. Develop the ability to watch the mind think, understand the patterns of emotional action and reaction. Have the sense that you are a divine being to root out imperfections. Becoming upset is a temporary suspension of our higher faculties; transmute the energy into the third eye.

Master Course, Living with Siva, Lesson 149;
Master Course, Merging with Siva, Lesson 152;
Yogaswami, Words of our Master

"Eight Features of the Natha Sampradaya" (September 17, 2014)
We have to discover that part of us that is the Self. One of the important benefits of temple worship is it softens the ego. Recognize and love a Being greater than us, building humility. Go to Lord Murugan; His worship strengthens the kundalini. There's a power in learning through listening, shruti, that which is heard. Tradition, sadhana and tapas, informs, inspires, awakens potential.

Master Course, Dancing with Siva, Sloka 151.

Click here for all recent talks
Archives are now available through 2001. Light colored days have no posts. 1998-2001 coming later.
Subscribe to RSS Feed