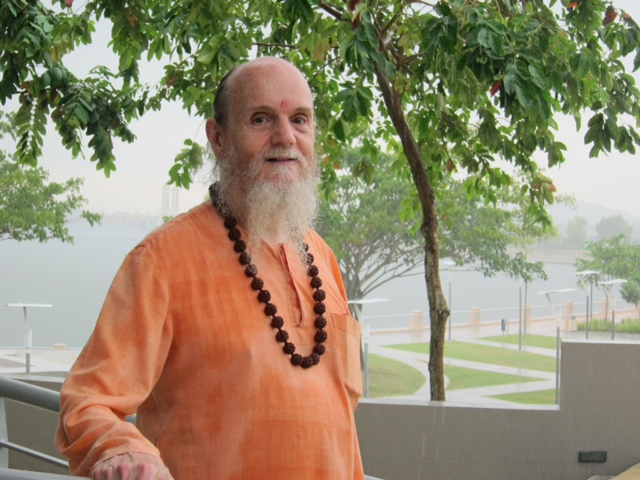 On his morning walk Bodhinatha takes refuge from a downpour of rain, a welcome relief from the hazy sky, the result of burning trees in nearby countries.
From Our Gurus' Teachings
Bodhinatha's Latest Upadeshas:"What is Hinduism -- Key Features" (October 18,2016)

Bodhinatha continues with his weekly series of commentaries on The Path to Siva. In this past Sun One talk, he elucidates the four key beliefs in Hinduism, the three pillars of Sanatana Dharma and Gurudeva's three stages of faith. Primary to Hinduism is the key belief that God is within each of us. To have a well-rounded understanding and experience of Hinduism, to make spiritual progress, adhyatma vikasha, we need scripture, humility, temple worship, devotion. To fully experience God we need the guru to give the spark for meditation and deeper wisdom.

Path to Siva, Chapter 5, What is Hinduism?

Click here to go to an index of all of Bodhinatha's and Gurudeva's online audio.
Archives are now available through 2001. Light colored days have no posts. 1998-2001 coming later.
Não foi possível conectar: