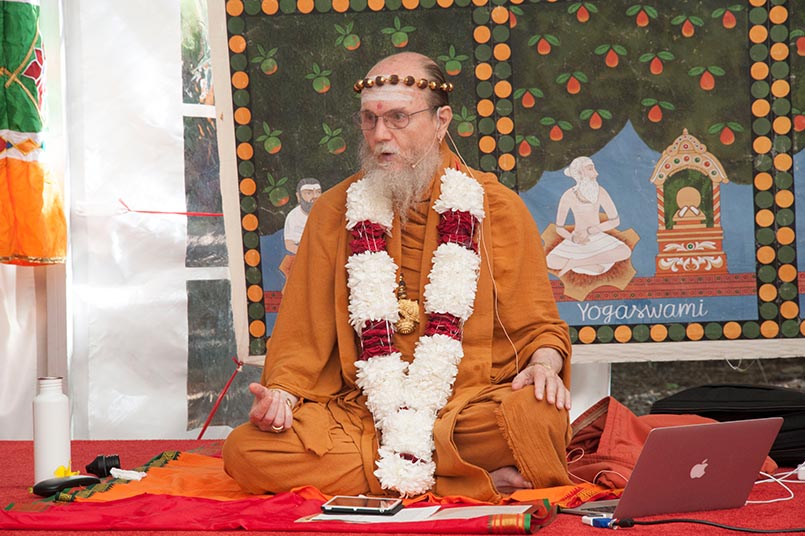 Bodhinatha's Latest Upadesha:
"The Monistic Theism of Saiva Siddhanta" (December 30,2016)
Our doctrine in Saiva Siddhanta is Monistic Theism, Advaita Ishvaravada. To experience oneness with God, to really do well in meditation, first, as a foundation, perfect theism. Become a great monist afterwards. Temple puja awakens the amrita within you; go into that and experience successful meditation after the puja.
Path to Siva, Lesson 10.
---
Click here to go to an index of all of Bodhinatha's and Gurudeva's online audio.
Each year we seek your help to keep our websites ad-free and all of our resources available at no cost. This year we set a goal of $70,000, and we reached it. In fact, we exceeded it. We are immensely grateful for all your generosity, and we are committed to provide you with new tools and spiritual assets, to help your journey. Mahalo, that's our Hawaiian "Thank You!"
From Our Gurus' Teachings
Bodhinatha's Latest Upadeshas - What Is the Nature of Our Sould
Are What About Evil, Hell and Sin, Path to Siva, Lesson 25 (May 20,2017)

Hindus believe in each individual as a soul, a divine being who is inherently good. We all have a threefold nature: instinctive, intellectual, intuitive. Develop the intuitive/spiritual/soul nature with compassion, devotion, penance. Use the intellect to help subdue the instinctive mind. Guilt is not a part of Hinduism. There is no eternal hell. You have a continuity of consciousness when you transition to the inner worlds. There is no devil, but there are mischievous "asuras."

Path to Siva, Lesson 25.

---

Click here to go to an index of all of Bodhinatha's and Gurudeva's online audio.
Archives are now available through 2001. Light colored days have no posts. 1998-2001 coming later.
September 2017

1

2

3

4

5

6

7

8

9

10

11

12

13

14

15

16

17

18

19

20

21

22

23

24

25

26

27

28

29

30
October 2017

1

2

3

4

5

6

7

8

9

10

11

12

13

14

15

16

17

18

19

20

21

22

23

24

25

26

27

28

29

30

31
November 2017

1

2

3

4

5

6

7

8

9

10

11

12

13

14

15

16

17

18

19

20

21

22

23

24

25

26

27

28

29

30
December 2017

1

2

3

4

5

6

7

8

9

10

11

12

13

14

15

16

17

18

19

20

21

22

23

24

25

26

27

28

29

30

31
June 2017

1

2

3

4

5

6

7

8

9

10

11

12

13

14

15

16

17

18

19

20

21

22

23

24

25

26

27

28

29

30
July 2017

1

2

3

4

5

6

7

8

9

10

11

12

13

14

15

16

17

18

19

20

21

22

23

24

25

26

27

28

29

30

31
August 2017

1

2

3

4

5

6

7

8

9

10

11

12

13

14

15

16

17

18

19

20

21

22

23

24

25

26

27

28

29

30

31
Subscribe to RSS Feed