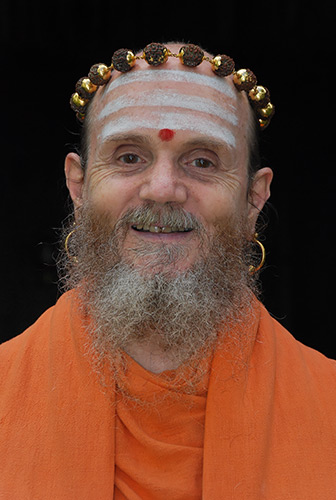 Bodhinatha's Latest Upadeshas -- Mahasivaratri Upadesha, 2017
" Mahasivaratri, 2017 -- The Four Stages of Your Personal Evolution." (February 24, 2017)
The soul body takes many lifetimes to mature. The height of divine consciousness: There is no difference between you and God. Spiritualize what you are doing as you engage in the world. Unwind the karmas of the past. The stages in Saiva Siddhanta: Charya, kriya, yoga-meditation and jnana. In jnana you and Truth are one. Go deeply enough in meditation to identify with That which is eternal, always existed, never changed: Siva, Satchidananda, Pure Consciousness, Absolute Reality. Ask yourself: "What is the void or the nothingness which is the source of this consciousness?" Then you're getting close, getting close.
Merging with Siva Lesson 317
Tirumantiram
Words of Our Master
---
Click here to go to an index of all of Bodhinatha's and Gurudeva's online audio.
As many of us know, our monks like to vary their culinary endeavors. While most of the week they enjoy food made in a simplified South Indian style, on their weekend nights they make a variety of world cuisines. Once a month artisan pizzas are made in the wood fired oven.
From Our Gurus' Teachings
Bodhinatha's Latest Upadeshas - Commentaries on Path to Siva
The Saiva Path, Lesson 30 (September 8, 2017)

Key concepts: Naalupadasaivam: "A Saiva doctrine that the initiate should pass successively through charya, kriya, yoga and jnana stages and thence obtain moksha." The charya pada, the dasa marga, path of servitude. Sharing the world of God. The kriya pada, satputra marga, true son's way. Nearness to God. The yoga pada, sakha marga, way of the friend, experiencing inner light, sharing the superconscious mind. We talk to God. The jnana pada, san marga, sayujya patavi, union with God. There is no difference between Siva and the soul. God is our dearest Beloved. The three types of temples provide training and experience leading to worship and meditation in the Atma kovil.

Path to Siva, Lesson 30.

---

Click here to go to an index of all of Bodhinatha's and Gurudeva's online audio.
Archives are now available through 2001. Light colored days have no posts. 1998-2001 coming later.
October 2017

1

2

3

4

5

6

7

8

9

10

11

12

13

14

15

16

17

18

19

20

21

22

23

24

25

26

27

28

29

30

31
November 2017

1

2

3

4

5

6

7

8

9

10

11

12

13

14

15

16

17

18

19

20

21

22

23

24

25

26

27

28

29

30
December 2017

1

2

3

4

5

6

7

8

9

10

11

12

13

14

15

16

17

18

19

20

21

22

23

24

25

26

27

28

29

30

31
Subscribe to RSS Feed