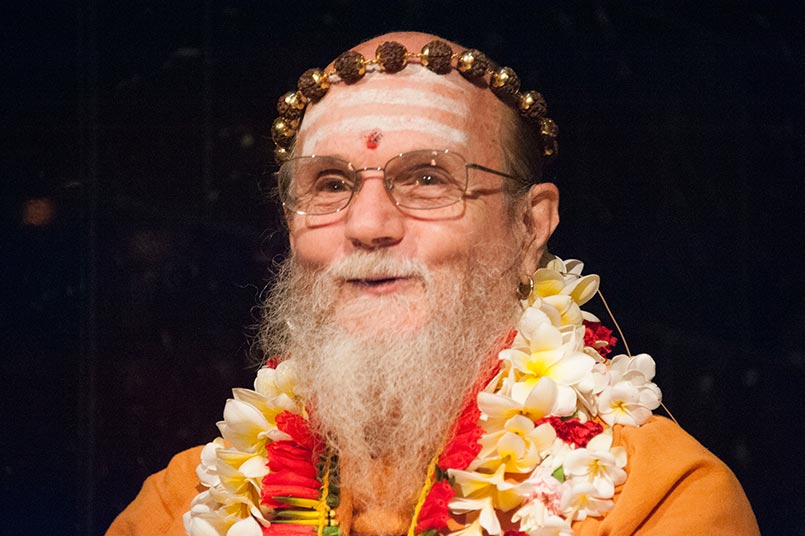 Bodhinatha's Latest Upadeshas:"Instinctive, Intellectual, Superconscious Mind" (May 30,2016)
The Hindu point of view. Everyone has a three-fold nature: instinctive, intellectual and superconscious. Everyone is a divine being. Everyone has the seed of divinity. See what phase of the mind we're in and practice controlling it. Once the instinctive mind is under control then we have to deal with the intellect. Temple worship, devotional worship is very helpful. Without God's grace, God's blessings, everything coming out from God, we couldn't do anything.
Master Course, Dancing with Siva, Lesson 48
Click here to go to an index of all of Bodhinatha's and Gurudeva's online audio.

We want to send a special thanks to Arulnageswaran Aruleswaran in Malaysia for sharing his collection of underwater photos to enrich the backgrounds for Word of the Day. Click Next to see more photos. Click the white eye to hide the quote and see the whole photo.
Satguru Bodhinatha Veylanswami reads his editorial from the April/May/June 2016 edition of Hinduism Today magazine. "Conflict and violence have their roots in hatred learned during youth. By teaching children tolerance, we create a more peaceful future."
We've recently enjoyed a visit from Pundit Vamadeva Shastri and his wife Shambhavi Chopra, both of whom are renowned authors and teachers.
Staunch Hindus, these two have long been collaborators with our Hinduism Today team, supporting the magazine with advertisements and being ever ready to help on a consulting basis. Our publish team has in turn tried to help with Vamadeva's publishing by supplying illustrations and art work. He reaches a large audience through teaching the disciplines of yoga, ayurveda and jyotisha.
From Our Gurus' Teachings
Bodhinatha's Latest Upadeshas:"Temples, Monasteries, Peace" (June 22,2016)

A temple helps you be a more peaceful person, live more deeply inside and into our soul nature. Harmony in the home leads to greater tolerance in the community. The emanation of darshan from the aadheenam creates an inner vibration, radiates out, uplifts those who are connected to the monastery. And, their karmas go more smoothly.

Master Course, Dancing with Siva, Sloka 70.

The Guru Chronicles, Chapter 17.

Saivite Shastras (Ref. Saiva Dharma Shastras, Chapter 1:26)



Click here to go to an index of all of Bodhinatha's and Gurudeva's online audio.
Archives are now available through 2001. Light colored days have no posts. 1998-2001 coming later.
September 2016

1

2

3

4

5

6

7

8

9

10

11

12

13

14

15

16

17

18

19

20

21

22

23

24

25

26

27

28

29

30
October 2016

1

2

3

4

5

6

7

8

9

10

11

12

13

14

15

16

17

18

19

20

21

22

23

24

25

26

27

28

29

30

31
November 2016

1

2

3

4

5

6

7

8

9

10

11

12

13

14

15

16

17

18

19

20

21

22

23

24

25

26

27

28

29

30
December 2016

1

2

3

4

5

6

7

8

9

10

11

12

13

14

15

16

17

18

19

20

21

22

23

24

25

26

27

28

29

30

31
July 2016

1

2

3

4

5

6

7

8

9

10

11

12

13

14

15

16

17

18

19

20

21

22

23

24

25

26

27

28

29

30

31
August 2016

1

2

3

4

5

6

7

8

9

10

11

12

13

14

15

16

17

18

19

20

21

22

23

24

25

26

27

28

29

30

31
Subscribe to RSS Feed