We've recently enjoyed a visit from Pundit Vamadeva Shastri and his wife Shambhavi Chopra, both of whom are renowned authors and teachers.
Staunch Hindus, these two have long been collaborators with our Hinduism Today team, supporting the magazine with advertisements and being ever ready to help on a consulting basis. Our publish team has in turn tried to help with Vamadeva's publishing by supplying illustrations and art work. He reaches a large audience through teaching the disciplines of yoga, ayurveda and jyotisha.
After several months of hard work we are happy to finally release this year's Gurudeva Mahasamadhi gift. For 2015 we decided to make a digital offering to keep alive the presence of our beloved Satguru Sivaya Subramuniyaswami in our daily lives. Through the years, the top of TAKA with changing images of and quotes from Gurudeva has continuously received Five Star ratings for inspiration. Though the selection is based on a random algorithm, many have given testimony on how the quote seemed to speak directly to them and issues they were facing.

Gurudeva.app takes this paradigm to new level with over 270 images of Gurudeva and more than 2,500 quotes. You may view quotes and images chosen at random, share the quotes and app link by email ( and later, on Twitter and Facebook) and read the quotes in different categories. In addition, eight audio files have been included in the app and can be listened to even if you are not connected to the internet. If you do have an internet connection, a "Surprise Me" link will stream a randomly selected audio file from our web server.

Go to this page to download the app for your Android or iOS device:

http://www.himalayanacademy.com/apps/gurudeva

The monks designed and built this app from the ground up and when a fully functional prototype was completed we hired an expert to help bring the final touches to the code, especially for the Android version. If you have any issues with the app, please use the feedback you will find on the help screen inside the app itself. We want to thank our Digital Dharma donors whose donations helped make this possible. And, please, share the app with your friends, spread the word. When you are looking at a picture and quote, click the share icon and email will be invoked with the quote and a link to the app. (Twitter coming next and then Facebook later). Spread the word! Perhaps it will go viral and 1000's will get to have the blessings too!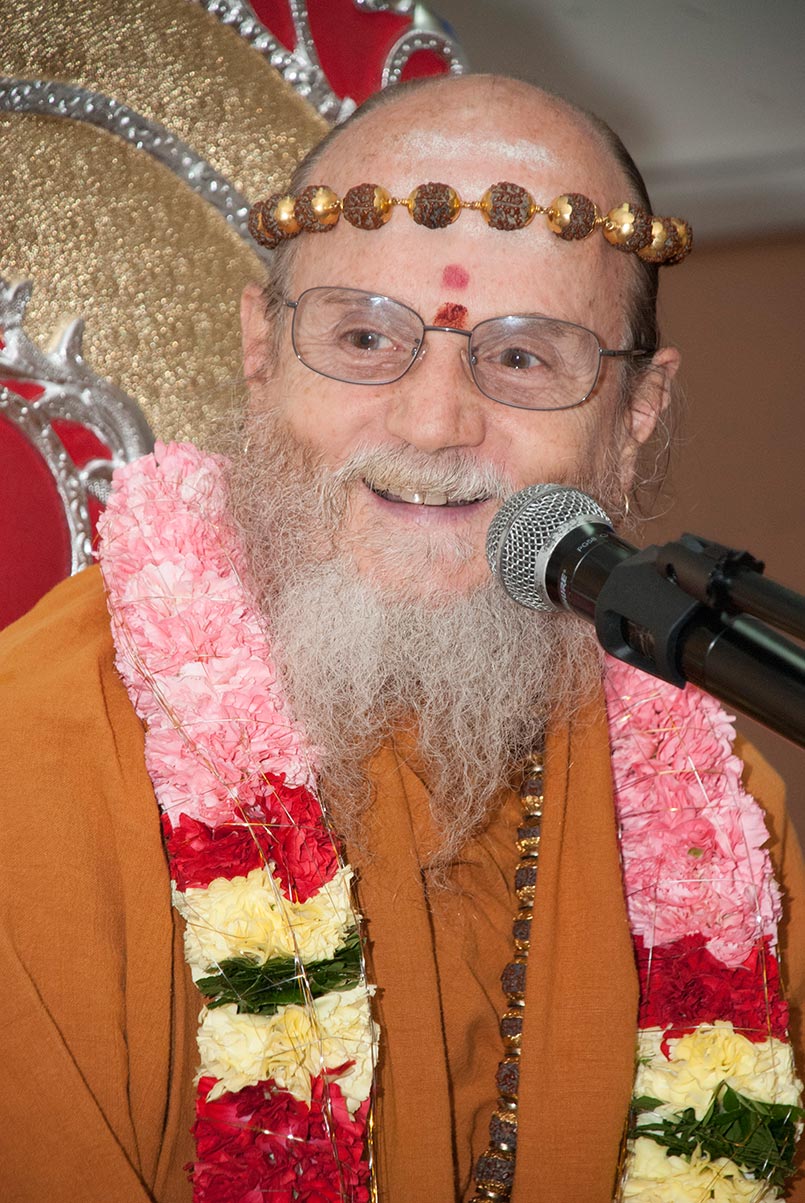 "Staying in Tune with Superconsciousness" (October 30, 2015)

By having a strong habit of a daily religious practice we don't lose contact with with superconscious by the demands of the external. Saying and believing, "I'm all right right now," influences the flow of spiritual energy. Work intuitively, from 'inner orders.' Yogaswami said: "Summa iru. Be still, and what you need will come to you."

Master Course, Merging with Siva, Lesson 200.

Click here to go to an index of all of Bodhinatha's and Gurudeva's online audio.
Drum roll. Cue the town crier. Ring the temple bells.

Today we begin our fifth annual Digital Dharma Drive. For the next 60 days, ending at midnight on December 31, we will humbly hold our begging bowl in hand seeking everyone's help with our digital resources and outreach.

As is well known, the publishing world has been transformed by the Internet, and we have been among those working (to good effect) to make the transition from paper and press to a publishing future that is 100% digital. The big difference is that our books and magazine (which we still do print) were sold, in bookstores all over the world, and the income provided funds to print the next book and the next.

Like Wikipedia, we have chosen a free model for the digital publishing, and we follow Wikipedia in reaching out at the end of each year to those who use and love our resources. This has worked well these past five years, and we think it will continue to be a way forward as more and more around the globe access our work and our spiritual teachings on their computers and mobile devices. 

Gurudeva would love where we have come today. He would love the ease with which the books are available, at no cost, to everyone who owns a mobile device anywhere in the world. He would love the lack of massive investment costs that were traditionally required for major books to be put on the presses, tens of thousands of dollars. Then the inventory costs, the shipping, the returns. All of that has been rendered unnecessary in the age of digital publishing. In our case, we are doing both, printed editions of the magazine, for instance, and then digital editions based on the elegantly designed PDF pages. The best of both worlds. 

Gurudeva would be proud of what the monastery produced in this past year: a major Hinduism Today app for all mobile platforms; Bodhinatha's offering, "A Character Building Workbook," two more 22-minute films on Hindu history for American schools; a book for Hindu teens teaching life's tough lessons; the beginning work on an educational game for youth and adults; dozens of ePubs of our magazine Insight sections; a map that will provide the central navigation for a future digital tour of the monastery; aerial footage from our QuadCopter; more foreign-language translations of Gurudeva's books, and much more. 

He would love that we don't have to charge struggling Hindu students for the spiritual teachings, but can make them available for free. In the last decade our resource-building efforts have shifted massively toward the web, following the fast-evolving world of communications and publishing. It takes a deft team to gather and sculpt the needed tools and stories for Hinduism Today and our Web resources. Creating and sharing an articulate and graphically elegant repository of Hinduism is neither easy nor without costs. Hindu youth are learning their spiritual ABCs online, and millions of seekers are discovering Hinduism digitally. What they encounter should be thoughtful, lucid, elegant and authentic. That's what compels our annual fundraising campaign. It's a chance for you to help us to help explain and share Hinduism globally.

Yes, we could meet our costs by charging for the online books and magazine, but we are determined not to do that. We ourselves are seldom motivated to pay for online information. We like it when needed information is available without cost. But free to the world is not free to us. We have significant costs in running our websites. The needs are modest, but they are real.

Among those needs has been a work space conducive to creative thinking and collaboration. For four decades the publishing team worked in a dim space, not exactly a hovel, but not much to inspire, either. The marvelous renovation of the Media Studio has changed the team's environment dramatically, and this year's contributions will help pay for this costly transformation into a "temple of the mind" worthy to be the headquarters of Hinduism Today and Himalayan Academy Publications. 

In order to provide information without charging for downloads, without showing advertisements on our sites, without commercializing our mission, we turn to you for help.

The goal for this year is the same as last: $70,000. Between now and December 31, we hope you will be inspired to help us meet our goal (you can click the banner above to give). In the right hands, and leveraged by the unsalaried work of the monks, these funds will have a profound impact on the future of Hinduism around the world. 

With much aloha and warm greetings during the holiday season ahead,

The Editors
Kauai's Hindu Monastery
Himalayan Academy Publications
From Our Gurus' Teachings
Bodhinatha's Latest Upadeshas:
"Clarifying Multiple Gods and Hindu Denominations" (October 10,2016)

"Temples with multiple deities can be confusing, especially for today's Hindu youth. For clarity, we need to bring forward a more precise understanding of the different Hindu denominations and how the different Gods are viewed from within each denomination. For spiritual advancement it is best to focus on one deity and get to the vibration that deity. When we hear teachings from various Hindus, it is important to understand and identify which denomination they are speaking from. This will avert confusion when that teaching gets contradicted in a different context where someone is talking about the same subject but from a different philosophical background."

Path to Siva, Chapter 7.



---

"The Many Facets of Saivite Hinduism" (November 9, 2016)

Bodhinatha reviews the main characteristic of Saivite philosophy and practice with an indepth focus on the four stages of religions evolution, chariya, kriya, yoga and jnana. He highlights how this shows that Saiva Siddhanta is unique and quite from the modern practice of Hinduism as Vedanta

Path to Siva, Chapter 8.

Click here to go to an index of all of Bodhinatha's and Gurudeva's online audio.
Archives are now available through 2001. Light colored days have no posts. 1998-2001 coming later.
Subscribe to RSS Feed