Andre Alves Garzia is here on Kauai since December 16 and staying for a month working closely with Brahmanathaswami on various IT projects, including our in house Caption Writer now called TAKAL which is the tool we use to create these TAKA posts automatically and efficiently.

Andre has been working off and on for Himalayan Academy Publications since 2004, and this is his fourth trip to Kauai. Years ago Andre completed 7 years in University majoring in film and media production. But his talents always leaned toward toward software development and he preferred coding to the idea of becoming a movie director. It was a perfect match for the Ganapati Kulam needs where media and digital technology converge every day. Over the years Andre has been advancing in his career and last year he was chosen by the Mozilla Foundation to be the lead in a project funded by the Ford Foundation to spread web literacy in and around the Rio de Janeiro area. The grant expired and the program shifted to other locations on the globe. Andre continues to volunteer for Mozilla in Brasil to help web literacy in the community but is now almost full time working for Himalayan Academy Publication while launching his own company. He plans to focus on offering training and consulting programs for the next young generation of web programmers who will build the internet of the future.

His wife, Elisangela Mendonça de Andrade Garzia aka "Lily" is a journalist. She is currently a producer, writer and assistant to the internationally renowned Canadian journalist, Stephani Nolen, who is heading up the South American bureau of The Globe and Mail, published from Toronto and now stationed in Rio. The Globe and Mail is one of the few publications that still prints 5-6 days a week and gets delivered to your home. With Lily's help, Stephanie brings a lot of interesting stories from South American into Canadian homes.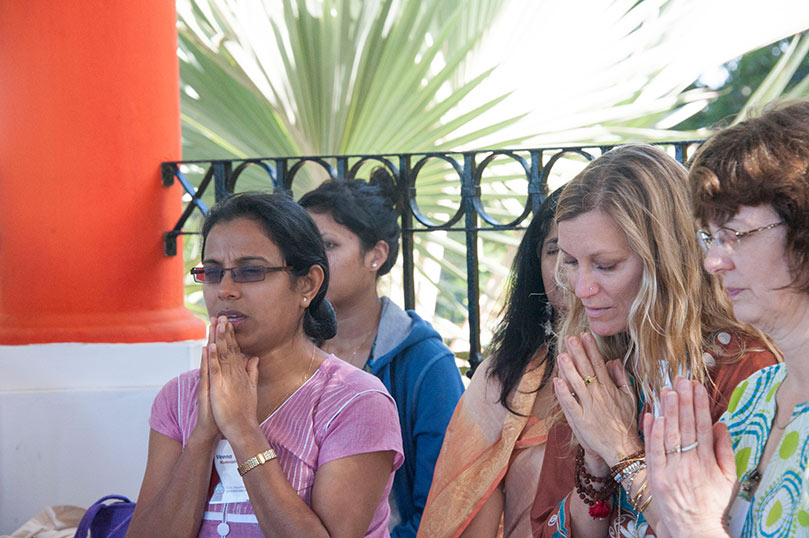 We have a treasure trove of wonderful stories and images in our archives which may rarely be seen by many viewers. We are working to find ways to bring this content forward for our TAKA readers. Here is a 150 image slide show from our 2014 Innersearch to Mauritius
From Our Gurus' Teachings
Bodhinatha's Latest Upadeshas - Our Scriptures; the Tirukural; Three Worlds and Surrendering Ego Through Devotion
" Path to Siva, Lesson 20 - Our Saivite Scriptures" (March 22,2017) " Path to Siva, Lesson 21 - Three Worlds; Conquer Ego Through Devotion" (April 13,2017)

Within our Saiva Siddhanta Holy Scriptures the Saiva Agamas explain the basis of temple ceremonies and worship plus yoga and jnana. The Tirukural was considered by Gurudeva to be "the most accessible and relevant sacred text." In it are practical and helpful guidelines for our conduct in every day life. The point of family life is to gain steady improvement, forever, in self control in the midst of responsibilities in the fulfillment of family dharma. Meanwhile, not taking detachment too far but taking it in the sense of spiritually looking for happiness, not outside in other people or possessions, the world, but inside ourselves and then sharing it with family and friends. "We regard the writings of our satgurus as scripture."

Path to Siva, Lesson 20
Tirukural, Introduction and Contents
Tirukural, Chapter 15 Possession of Self-Control

"The temple enables us to feel the presence of God, Gods and devas." We use our inner eyes to see what's going on in the temple, the three worlds. In the temple we're being good dvaitists in the dimfi perspective, focused in bhakti upon God Siva. In meditation we're monists, in the shumif perspective. We claim our oneness with Siva, Sivoham, I am Siva. In surrender, shrinking the ego through devotion, we have a realization that we're not the doer, that Siva is doing it all. Siva's energy comes through our soul.

Path to Siva, Lesson 21

---

Click here to go to an index of all of Bodhinatha's and Gurudeva's online audio.
Archives are now available through 2001. Light colored days have no posts. 1998-2001 coming later.
Subscribe to RSS Feed