Today Natyam Jayanatha and Yogi Rajanatha set up for and filmed Satguru Bodhinatha Veylanswami's Publisher's Desk editorial from the April 2017 issue of Hinduism Today Magazine. It takes about 40 minutes for the team to set up the lighting, sound and the camera in order to produce a quality video. In the coming weeks the video will be edited and posted online along with the April Digital edition of Hinduism Today. For now, here is a short preview of the article:

For those on the spiritual path, it is not terribly difficult to avoid backbiting, gossip and hurtful humor. But controlling and refining our speech on more subtle levels is a lifetime sadhana.
Three virtues we can focus on are courtesy, tact and sensitivity. Courtesy is being polite, respectful and considerate of the needs and feelings of others. Tactfulness is being diplomatic and skillful in dealing with people and situations, responding to disagreements judiciously, and maintaining harmony by seeking solutions that offend no one. Sensitivity is holding a delicate appreciation of others ideas, attitudes and natures, listening carefully in conversations and not interrupting, striving to uplift rather than dominate. The Tirukural warns, "Not knowing the companionable art of cheerful conversation, men estrange even friends by divisive discourse" (verse 187).

Recently the monks in the Ganapati Kulam finished updating the give-away booklet "All About kauai's Hindu Monastery." As with all books physical there must be a digital version out there that needs updating. This digital merry-go-round can be found here and easily be stored on your browser as the go-to source for answering questions about us, Hinduism, our temples, pilgrimage FAQ, Hindu history and all of our apps-in one place.

Let's explore a little bit of what we have to get you started.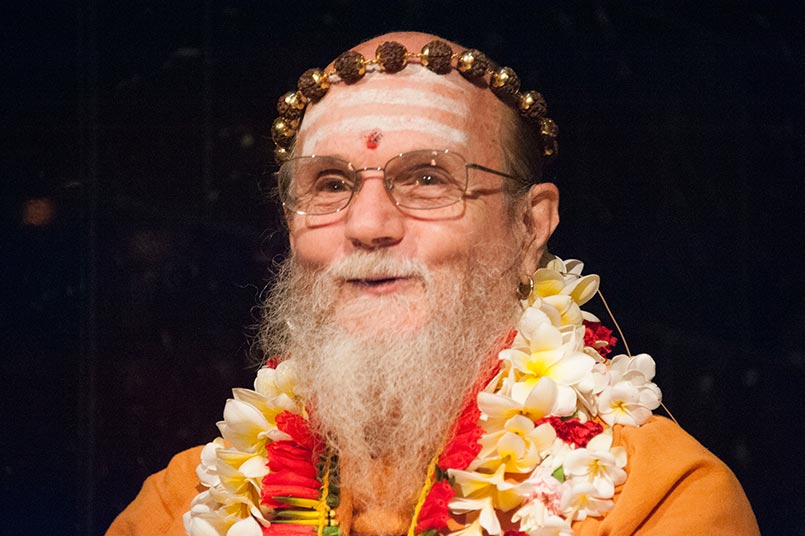 Bodhinatha's Latest Upadeshas:
"What is the Meaning of Siva's Dance" (February 5,2017)

Initially we're looking at the world. By Siva's revealing grace, anugraha, ultimately we turn toward God. The soul matures, fulfilling dharmas. We reach a point where we see that Siva is the doer, guiding us, adjusting our angle toward Himself. "Sarvam Sivan seyal." Siva is doing it all. We're flowing with the dance of Siva.

Path to Siva, Lesson 15

Dancing with Siva, Lesson 97,

The Master Course Trilogy, Introduction
---
Click here to go to an index of all of Bodhinatha's and Gurudeva's online audio.
Nama Sivaya everyone. We hope all is well in your world.

This morning the monks and local devotees along with some wonderful off-island pilgrims woke up before the sun and worshiped Siva.

Here is some text superconsciously pulled from Lemurian Scrolls:
"As the planet becomes older forces equalize themselves and new innovations in cultural procedures are absent. Systems remain status quo. Our shastras predict that a million years after the beginning of the next Sat Yuga there will be great research into science and planetary travel as the fire deepens beneath the Earth's crust. Nothing new is created everything is preserved and nothing is destroyed. There is no fire. It is just a big space station here. Nothing is growing. One of the biggest space stations in the universe. It will be like a nation that gets to the point where it fulfills its purpose and goes away and others move in.
"But now in the Dvarpara Yuga in which we live and have been living for thousands and thousands of years the vibrations of the next are imminent and slight adjustments of the cosmic rays are even now being felt. The onrush of the fulfillment of purpose has culminated and change is imminent. It is only with a great upheaval of the status quo of this yuga will the next begin. Hence in retrospect some of the important manifestations of the preservation of the culture recorded and preserved in the akashic ether of the inner mind will lay a foundation for the continuity of the culture during the wane of the Kali Yuga many thousands of years from now when cosmic rays once again pierce the veiling darkness and the Sat Yuga dawns."
From Our Gurus' Teachings
Bodhinatha's Latest Upadeshas - Commentaries on Path to Siva
The Saiva Path, Lesson 30 (September 8, 2017)

Key concepts: Naalupadasaivam: "A Saiva doctrine that the initiate should pass successively through charya, kriya, yoga and jnana stages and thence obtain moksha." The charya pada, the dasa marga, path of servitude. Sharing the world of God. The kriya pada, satputra marga, true son's way. Nearness to God. The yoga pada, sakha marga, way of the friend, experiencing inner light, sharing the superconscious mind. We talk to God. The jnana pada, san marga, sayujya patavi, union with God. There is no difference between Siva and the soul. God is our dearest Beloved. The three types of temples provide training and experience leading to worship and meditation in the Atma kovil.

Path to Siva, Lesson 30.

---

Click here to go to an index of all of Bodhinatha's and Gurudeva's online audio.
Archives are now available through 2001. Light colored days have no posts. 1998-2001 coming later.
October 2017

1

2

3

4

5

6

7

8

9

10

11

12

13

14

15

16

17

18

19

20

21

22

23

24

25

26

27

28

29

30

31
November 2017

1

2

3

4

5

6

7

8

9

10

11

12

13

14

15

16

17

18

19

20

21

22

23

24

25

26

27

28

29

30
December 2017

1

2

3

4

5

6

7

8

9

10

11

12

13

14

15

16

17

18

19

20

21

22

23

24

25

26

27

28

29

30

31
Subscribe to RSS Feed