Bodhinatha's Sun One Talk is up on our server.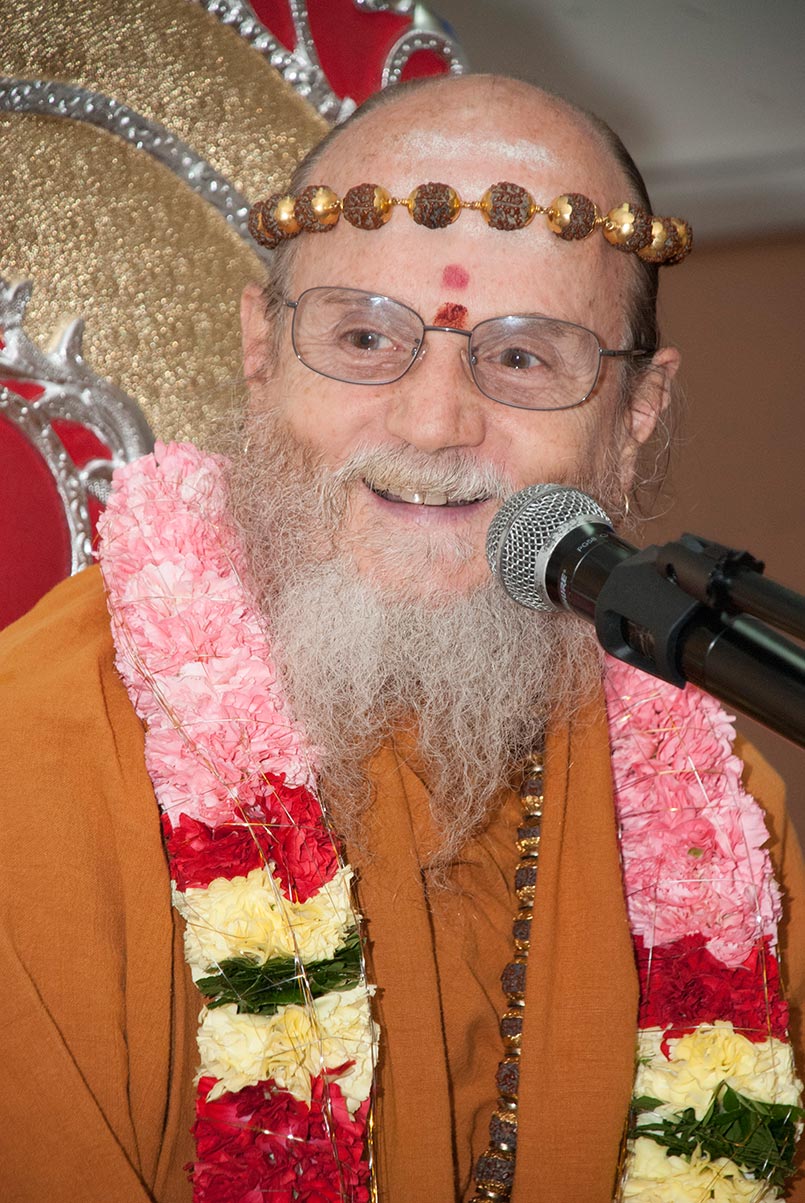 Bodhinatha's Latest Upadeshas:"God is Love; Putting This Into Practice" (February 2, 2016)
The deepest perception of Love: Love is the ultimate Truth. Our Affirmation of Faith: "God Siva is Immanent Love and Transcendent Reality." You are also that Love, you are also God Siva. There's only one Being and that Being is a being of Love. The more we can act from that part of us, the better.
Master Course, Living with Siva, Lessons: 45, 296
Click here to go to an index of all of Bodhinatha's and Gurudeva's online audio.
Recently, Sadhaka Dayanatha has been working to clean parts of Iraivan Temple. Before the temple's roof was fully sealed, water caused calcite to drip from the granite, hardening itself upon certain areas. This soda blasting is an attempt to remove the calcite without damaging the carved stone. It is a process by which sodium bicarbonate is applied against the surface using compressed air. This attempt was fairly successful, but more experimentation needs to be done to find the best particle grit for the job.
Enjoy these slightly belated images from Thai Pusam. These are kavadi that two of our monks prepared. Kavadi is a penance offered to Lord Karttikeya, especially during Tai Pusam, consisting of carrying in procession a heavy, beautifully decorated, wooden object from which pots of milk hang which are to be used for His abhisheka. The participant's tongue and other parts of the body are often pierced with small silver spears or hooks, though our monks did not observe this part. Vel Muruga!
From Our Gurus' Teachings
Archives are now available through 2001. Light colored days have no posts. 1998-2001 coming later.
September 2016

1

2

3

4

5

6

7

8

9

10

11

12

13

14

15

16

17

18

19

20

21

22

23

24

25

26

27

28

29

30
October 2016

1

2

3

4

5

6

7

8

9

10

11

12

13

14

15

16

17

18

19

20

21

22

23

24

25

26

27

28

29

30

31
November 2016

1

2

3

4

5

6

7

8

9

10

11

12

13

14

15

16

17

18

19

20

21

22

23

24

25

26

27

28

29

30
December 2016

1

2

3

4

5

6

7

8

9

10

11

12

13

14

15

16

17

18

19

20

21

22

23

24

25

26

27

28

29

30

31
February 2016

1

2
3
4
5
6

7

8

9

10

11

12

13

14

15

16

17

18

19

20

21

22

23

24

25

26

27

28

29
March 2016

1

2

3

4

5

6

7

8

9

10

11

12

13

14

15

16

17

18

19

20

21

22

23

24

25

26

27

28

29

30

31
April 2016

1

2

3

4

5

6

7

8

9

10

11

12

13

14

15

16

17

18

19

20

21

22

23

24

25

26

27

28

29

30
May 2016

1

2

3

4

5

6

7

8

9

10

11

12

13

14

15

16

17

18

19

20

21

22

23

24

25

26

27

28

29

30

31
June 2016

1

2

3

4

5

6

7

8

9

10

11

12

13

14

15

16

17

18

19

20

21

22

23

24

25

26

27

28

29

30
July 2016

1

2

3

4

5

6

7

8

9

10

11

12

13

14

15

16

17

18

19

20

21

22

23

24

25

26

27

28

29

30

31
August 2016

1

2

3

4

5

6

7

8

9

10

11

12

13

14

15

16

17

18

19

20

21

22

23

24

25

26

27

28

29

30

31
Subscribe to RSS Feed