Sung by: Sadhaka Nandinatha
Sung by: Tiruthani Swaminathan
This is the most famous of all of the songs by Saint Manickavasagar. The 95 lines of the...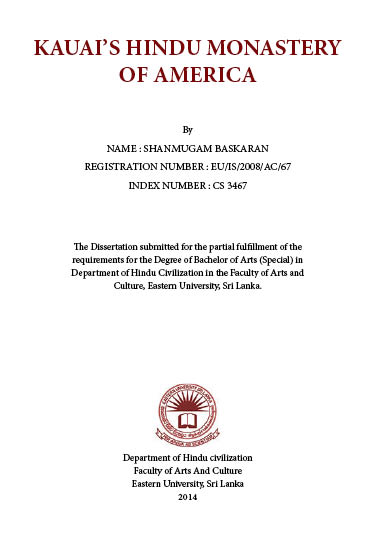 This is a brochure describing Kauai Aadheenam written in Tamil by Shanmugam Baskaran. It his dissertation submitted for...
Sung by: Soondiren Arnasalon
இந்து இந்தியாவின் வரலாறு (பாகம் 1) இந்துஸ்ம் டுடே சஞ்சிகையின் ஆசிரியர்கள் கலிபோர்னியா மாநில நார்றிஜ் பல்கலைக்கழகத்தின் வரலாற்று கௌரவப் பேராசிரியரான டாக்டர் சிவ...
Sung by: Sivanathan Batumalai
Ganesha Bhajan. This is the long version of Ganesha Saranam
Sung by: Soondiren Arnasalon