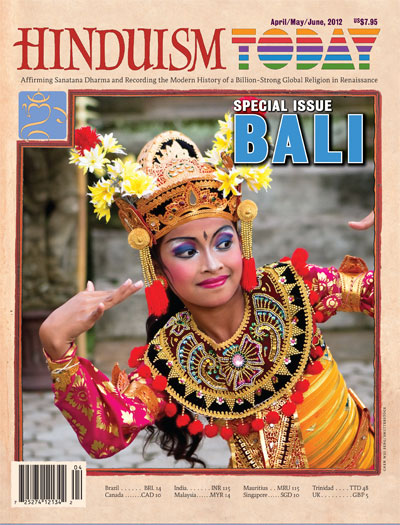 The latest issue of Hinduism Today for April/May/June 2012 may be ordered online at www.minimela.com in single copies and in multiple copies at discounted prices. This issue focuses on the Hinduism of Bali where we experience the people and explore the temples of this unique Hindu outpost.
Read about the history of Hindus settled in Bali and the Lontar palm-leaf manuscripts which reflect Bali's connection with ancient India. An expatriate Australian married to a Balinese shares her keen cultural insights, and we tease you with a sampling of the arts, music, painting and dance which permeate Bali's spirit and unique forms.
Dare we speak about Nyepi, the day of silence, when all of Bali comes to a complete stop. And how do Hindus inside and outside of Bali understand their tradition of animal sacrifice? Find out all about this controversial practice in this issue. Discover why Bali's cremation rites reflect a cogent understanding of the soul's passage, and we conclude our Balinese issue with Bali's reflective response to the 2002 terror attacks which stunned the world.
Satguru Bodhinatha Veylanswami discusses how our soul matures slowly over time in this issue's Publisher's Desk, and Dada Vaswani gives a presentation on Atma Vidya, the science of the Self.
The Insight section features the traditional wedding with a pictorial summary for Hindus in the diaspora.
And, as usual, read our regular digests on Global Dharma, Quotes & Quips and Digital Dharma. With stunning photos and in-depth articles you don't want to miss this special issue on Bali!
4 Responses to "New Hinduism Today Issue on Balinese Hindus"
From Our Gurus' Teachings
Bodhinatha's Latest Upadeshas
Path to Siva Commentaries

What Is Good Conduct?

Good conduct is right thought, right speech and right action." Apply T-H-I-N-K: true, helpful, inspirational, necessary, kind in our thoughts, words and deeds. "Conduct ourself properly within ourself." Encourage rather than discourage. Praise rather than criticize. Speak an abundance of sincere inspirational words.

Path to Siva, Lesson 55

---

What Is the Hindu Way of Greeting?

"Namaste" and "vanakkam," core practices of greeting. Recognizing that God is within everyone, the same God within me is within you. A Hindu concept not necessarily believed by other religions. Bowing to God is one of the ways we strengthen our humility and lessen our sense of ego and pride.

Path to Siva, Lesson 56

---

How Do We Get Along with Others?

For peace in the world stop the war in the home." The key to world peace is inside the individual. The most important thing I can do today is be peaceful. Harmony, peace and tolerance radiate out to the community from the home and from the Hindu temple. "Everything is all right, right now." Affirmation is a useful tool to move out of a disturbed state of mind. Practice being in the eternal now.

Path to Siva, Lesson 57 Click here to go to an index of all of Bodhinatha's and Gurudeva's online audio.
Archives are now available through 2001. Light colored days have no posts. 1998-2001 coming later.
Subscribe to RSS Feed