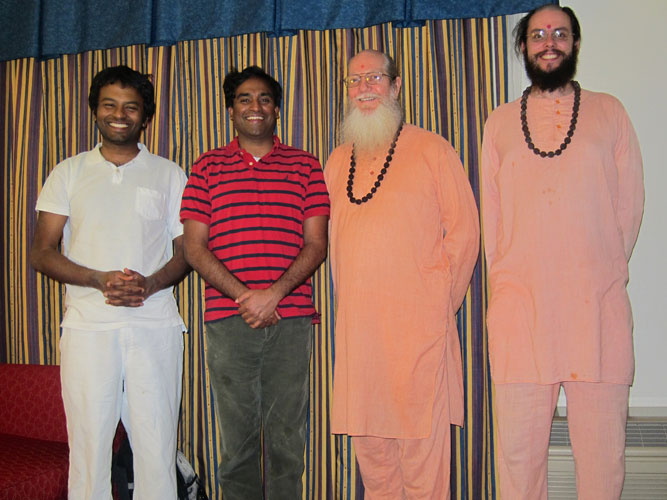 Shanmuganathaswami and Siddhanathaswami reunited with our friend and priest Janahan Balasingam. Mayuran Muttulingam (in white) is a cousin of Janahan and joined us for some lively discussions. Janahan performed the first annual Mahasamadhi puja for Gurudeva on October 26, 2003. See the TAKA archive for that day: TAKA Archive Oct 26 2003
On a flight today from Delhi to Bangalore, and taking the opportunity to share our visit to a special temple.

Sri Sivaratree Desikendra Swami asks his aides to take the two Hawaii sadhus on a temple excursion, visiting several, but none to match this one: The Keshava Temple at Somnathpur. That's Harsha Babu on the left, our noble and eloquent guide (he speaks 8 Indian languages, and throws words around in English like a victorian scholar: cynosure and such.

Outside is a monolithic kodimaram, flagpole, a giant one.Inside, well, inside lies the most spectacular carving virtuosity we have ever encountered. Every carving we have seen before, well...From Wikipedia:

Somanathapuraalso known as Somnathpur) is a town located 35 km from Mysore city in Mysore district, Karnataka, India. Somanathapura is famous for the Chennakesava Temple (also called Kesava or Keshava temple) built by Soma, a dandanayaka (commander) in 1268 CE under Hoysala king Narasimha III, when the Hoysalas were the major power in South India.The Keshava temple is one of the finest examples of Hoysala architecture and is in a very well preserved condition. The temple is in the care of the Archeological Survey of Indiaas a protected heritage site and visitors are allowed only from 9:00AM to 5:30PM.

Sadhaka Satyanatha and I are stunned, speechless. We are told it took 1,200 silpis 3 years to build. Each one was a Michaelangelo. Every sculpture is not merely exquisite, it's ...there are no adjectives and these photos are poor intimations of the artistry. Inside we find an ancient Hoysala style peedam. There are three towers, and three sanctums, each with a form of Vishnu: Kesava, Janardhana and Venugopala.

Astonishingly, after committing 3,000 man years to the work, nary a puja was ever performed here. Not one. The Muslims reached the town as the work was nearing its end, raided it, destroyed one of the main murthis. We observe that there is little damage, and our guide notes that the invaders were after gold and jewelry and so did not tarry to do more vandalizing. The temple, however, was built by the celebrated army commander, Somnath. Some years earlier he had founded a village on the left bank of the Kaveri River, which he had named Somnathpur, after himself. All the facts are duly mentioned on the 8-foot-tall stone slab in old Kannada script and appear as if they had happened yesterday!

Another fascinating peedam style. The rooms are nearly black, so little light reaches them, so the photos suffer much. In Hoysala style of architecture the temple is designed as a mini cosmos with scenes carved on the walls including Gods, Goddesses, dancing girls, musicians, gurus, ancient tales, hundreds of elephants (each different) and all kinds of animals including lions, cows and monkeys.

Take the finest sculpture you have seen, multiply that skill times one centillion then take it to the power of a googleplex and you will be half way to the workmanship here. OK, we exaggerate. You will be one ten thousandth of the way. Every square millimeter is mesmerizing. These silpis had no sense of plain stone, anywhere. We are accustomed to sculpting in granite, and this softer stone clearly yields better to the chisel.

We are surprised at the condition. It seems new, done mere years ago, not 8 centuries. It must be a specially chosen form of soapstone to have held up this well. We watch as tourists walk by the masterpieces, not knowing the fullness of what lies before them, We wonder where this artistry came from. A gifted few sthapatis? That seems impossible. The silpis themselves must have executed the designs.

A jalakam, stone window. Inside, there are some 15 ceiling sculptures. So deep, so rich and perfect. Imagine the hand of the carver. He can't make a single mistake or the work will be spoiled. This one is nearly 3 feet deep. OMG.The temples was not built by the king, but by a popular army commander, Somnath. He founded a village on the banks of the Cauvery and then embarked on constructing temples in a bid to further his immortality.Sorry about all the adjectives. Sadhaka and I were deeply moved by our 90 minutes here and for the rest of the day could only imagine how something so perfect and powerful could be created at a time that Europe was in the Middle Ages.

Thus ends the Somnathpura adventure.Later we visited five jothi lingam temples built quite near each other, just a few hundred yards apart. But the engineers put them in a sand dune, and they are regularly covered in sand. You have to walk down some 10-20 feet to the entrance, as the sand has raised the ground level that much.

Aum Namasivaya!
One more of the many events at Suttur Mutt. Actually, these dancers were everywhere during the days of the festival. Watch it in full screen to see their elaborate costumes and priceless facial expressions. httpvh://www.youtube.com/watch?v=2VkskvdUPOM
From Our Gurus' Teachings
Archives are now available through 2001. Light colored days have no posts. 1998-2001 coming later.
Subscribe to RSS Feed