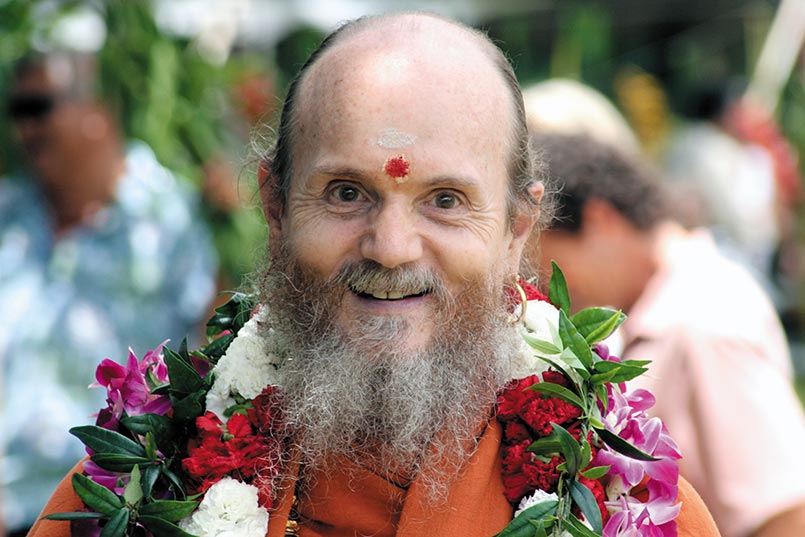 Bodhinatha's Latest Upadeshas:
"God Siva —the Supreme Being" (January 01,2017)
Lord Siva is the Supreme Being of the universe, not one of many gods. To Saivites Siva is the supreme being; to Vaishnavites Vishnu is the supreme being. The soul starts with experiencing the world. On one side the soul is pulled by veiling grace toward the world. On the inside the soul is pulled by revealing grace toward God. Resolving karma, maturing in the world, fulfilling dharma, we move toward imperturbability, realization, moksha.
Path to Siva, Lesson 11.
---
Click here to go to an index of all of Bodhinatha's and Gurudeva's online audio.
We recently received this copy of a photo from Rajkumar Manickam which he took while at the Aadheenam during our 2016 Mahasamadhi celebrations. He skillfully caught a long exposure of our galaxy behind Iraivan Temple. The next photo is a look at the Temple's recent landscaping.
Here's a photo of some of our IT team, Natyam Jayanatha, Andre Garzia, Sannyasin Brahmanathaswami and Sannyasin Siddhanathaswami.
Andre Alves Garzia left Kauai for a two-day journey back to his home and wife Lily in Niteroi (across the bay from Rio) in Brasil. He spent a month here working on many projects and his visit was a great success. Among the thing he accomplished:
Setting up a small Linux Server called "Buddhi" to back up our web sites daily and provide "disaster recovery" assurance for all our web content.
Progress on our new SivaSiva app including a Hindu Panchangam module that will actually be released as a separate app.
assisting the Pilliyar Kulam with their internal monk's only web site that helps with coordination of all our monastic activities.
Upgrading the software originally created by the monks to process photos and create these TAKA posts. This will allow other monks to contribute very easily and efficiently, even from the road
Adding support to the media manager software we use in house to create web content. New innovations include Audio books and the Hindu Lexicon and FAQ content support systems. (Stay tuned for announcements on these, as we release some new content in the days and weeks ahead)
Kick off discussions and advance planning for two major new web content initiatives relating to virtual tours of the Aadheenam and opening up access to our art archives in more user friendly ways.
The monks and Andre want to thank all our Digital Dharma supporters for their contributions which allow up to keep these initiative moving forward, always free and always ad free!
From Our Gurus' Teachings
Archives are now available through 2001. Light colored days have no posts. 1998-2001 coming later.
Subscribe to RSS Feed