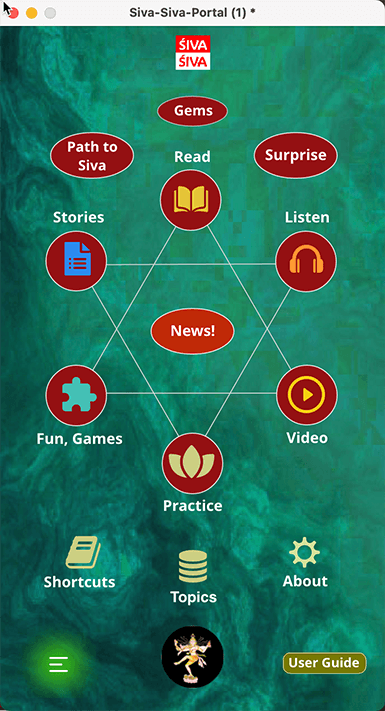 Jai Ganesha and Happy Pancha Ganapati to all our Android users! SivaSiva is now available for your devices. Search "SivaSiva" all one word in Google Play or the App Store (for iOS) Thanks especially to all our Digital Dharma Drive supporters whose contributions have made this, and more to come, possible.
Go to Google Play

iTunes/AppStore
The Profound Wisdom,
Awesome Beauty and
Modern Toolbox of
God Siva's Realm.

"Thank you! The best tool ever. I am
appreciating this amazing App, using it everyday. Making a big change for
learning, reading and listening to all the body of work of Gurudeva and Satguru Bodhinatha."
— Rajeswari Parasivam
"The SivaSiva app…it is mind-blowing. The first talk I listened to was from Gurudeva's 1970 audio course, his talk on The Mind of Light and while I often listen to upadeshas on the website, both Bodhinatha's and Gurudevas, this took me to a whole new place. So there it is, a lifetime of transformation available in the palm of one's hand. Who would have thought!"
— Janani Jananayagam
JAI GANESHA!

A most blessed and happy Pancha Ganapati to you all with much love from the monks of Kauai Aadheenam! We hope your celebrations are filled with light and joy, and with the harmony between the people in your life that you have been cultivating and renewing over the last few days. Tonight our monks enjoy a hearty meal together while Satguru opens the many gifts that have been sent to us from all over the world.


Here is the Sadhana for this final day:

December 25, orange: The family sadhana for the final day is to bring forth love and harmony within all three worlds. Because of sadhanas well performed during the first four days, the family is now more open and aware of Ganeshas grace, and their love for Him is now overflowing. On this day the entire family experiences an outpouring of love and tranquility from the great God Himself. His blessings fill the home and the hearts of everyone within it, inspiring them anew for the coming year.

Aum Gam Ganapataye Namah!

From Our Gurus' Teachings
Archives are now available through 2001. Light colored days have no posts. 1998-2001 coming later.
Subscribe to RSS Feed