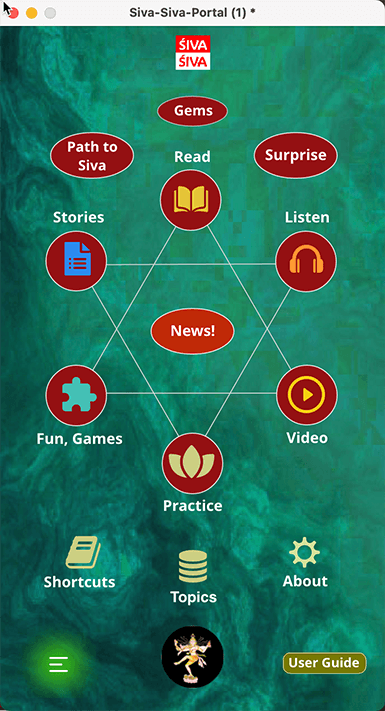 Jai Ganesha and Happy Pancha Ganapati to all our Android users! SivaSiva is now available for your devices. Search "SivaSiva" all one word in Google Play or the App Store (for iOS) Thanks especially to all our Digital Dharma Drive supporters whose contributions have made this, and more to come, possible.
Go to Google Play

iTunes/AppStore
The Profound Wisdom,
Awesome Beauty and
Modern Toolbox of
God Siva's Realm.

"Thank you! The best tool ever. I am
appreciating this amazing App, using it everyday. Making a big change for
learning, reading and listening to all the body of work of Gurudeva and Satguru Bodhinatha."
— Rajeswari Parasivam
"The SivaSiva app…it is mind-blowing. The first talk I listened to was from Gurudeva's 1970 audio course, his talk on The Mind of Light and while I often listen to upadeshas on the website, both Bodhinatha's and Gurudevas, this took me to a whole new place. So there it is, a lifetime of transformation available in the palm of one's hand. Who would have thought!"
— Janani Jananayagam
One Response to "SivaSiva App Now Available for Android Phones!"
Niraj says:
January 2nd, 2018 at 2:42 pm

This is a great tool for daily sadhana. Impressed with the design and functionality too.
Thank you and well done for this incredible app!
Om Sivaya
From Our Gurus' Teachings
Archives are now available through 2001. Light colored days have no posts. 1998-2001 coming later.
Subscribe to RSS Feed