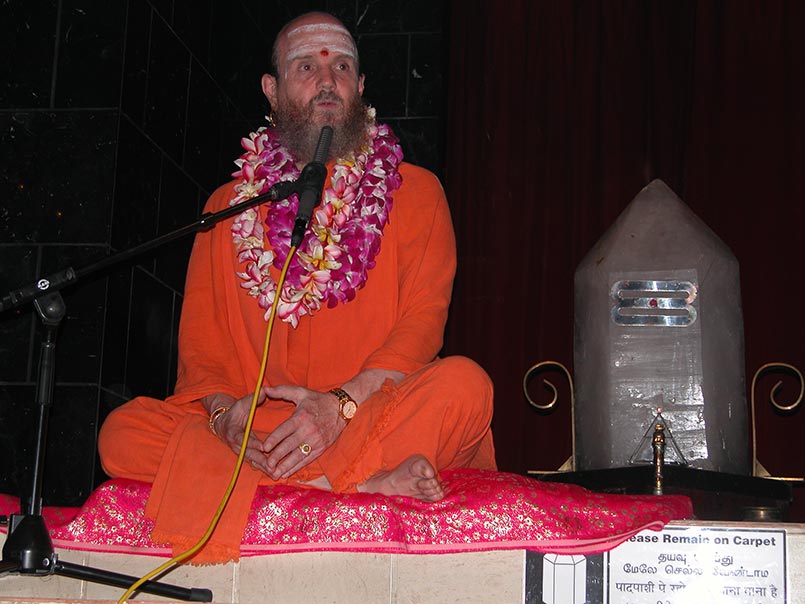 Bodhinatha's Latest Upadeshas – Commentaries on Path to Siva
Who Are the Devas, Lesson 29 (July 24,2017)
Religion is the working together of the beings in the three worlds. The first way we actually experience something of a divine nature, the power and energy in a temple, is our sensitized feeling nature. The Saivite beings in the inner world, Deities, saints, sages, devas, guide and govern, help and protect, shower forth blessings and inspirations to the members of our religious family. All worship Siva.
Path to Siva, Lesson 29.
---
Click here to go to an index of all of Bodhinatha's and Gurudeva's online audio.
[Words from the lexicons of all our books]
Devotees around the world are honoring Gurudeva today. It has been 5,738 days since his Great Departure, and today was our 209th monthly honoring of that day. A devotee sent an amazing and apt video of Nallur Temple festival in Sri Lanka.

The interesting thing is that the sound track is Yogaswami's Natchintanai talking about Nallur, where he met his guru, Chellappaswami. The power of the paramparai can be seen in this short video, a power enhanced by the fact that Chellappaswami lived in the chariot house on the temple grounds for years.

It was here, too, that he shook the bars and demanded from Yogaswami, "Who do you think you are?" That question was the seed of all that Kauai's Hindu Monastery is today.

Remember, we are going to Nallur Temple in Jaffna in February, 66 of us. Jai Nandinatha Sampradaya!

See the video here
Click here for description and more photos


From Our Gurus' Teachings
Archives are now available through 2001. Light colored days have no posts. 1998-2001 coming later.
Subscribe to RSS Feed