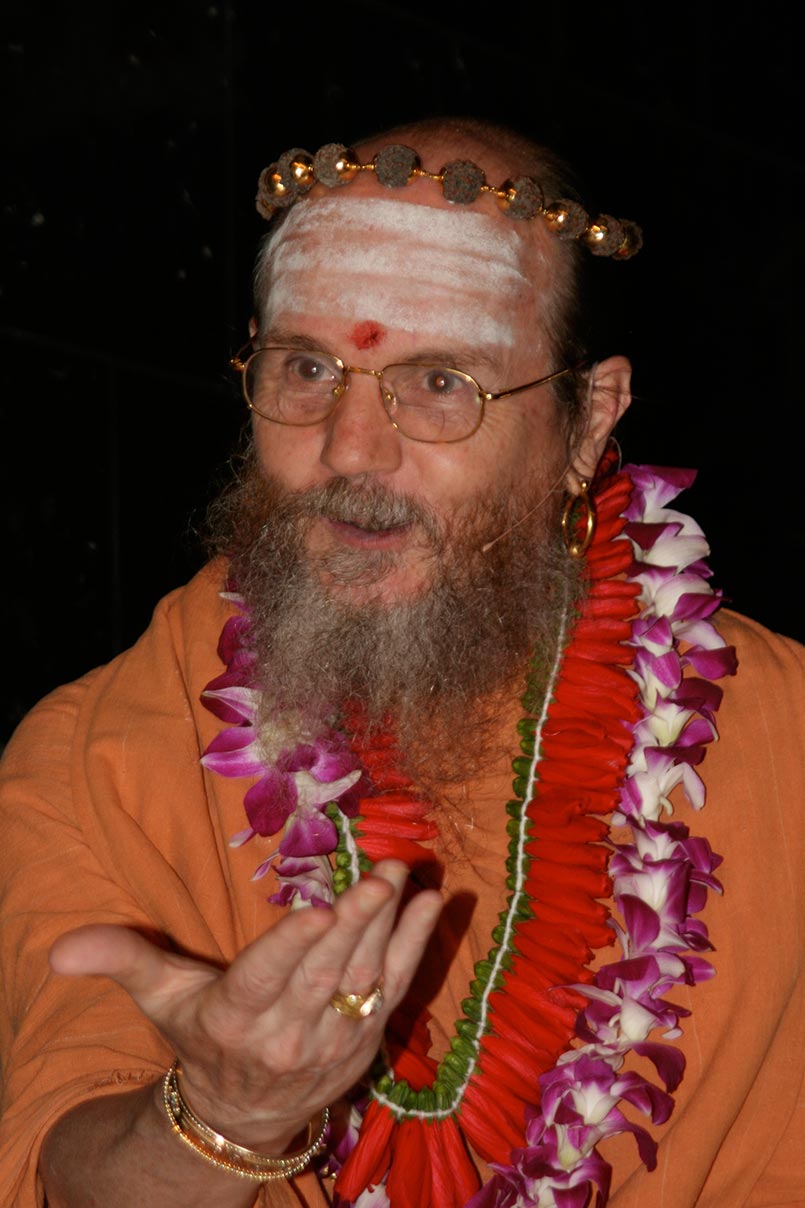 In this commentary on Chapter 30 of Path to Siva, Bodhinatha encapsulates the entire path of Saiva Siddhanta in one short talk. Don't miss it!
Key concepts: Naalupadasaivam: "A Saiva doctrine that the initiate should pass successively through charya, kriya, yoga and jnana stages and thence obtain moksha." The charya pada, the dasa marga, path of servitude. Sharing the world of God. The kriya pada, satputra marga, true son's way. Nearness to God. The yoga pada, sakha marga, way of the friend, experiencing inner light, sharing the superconscious mind. We talk to God. The jnana pada, san marga, sayujya patavi, union with God. There is no difference between Siva and the soul. God is our dearest Beloved. The three types of temples provide training and experience leading to worship and meditation in the Atma kovil.
Suresh and Shanthi Ramamurthi hosted Paramacharya Sadasivanathaswami for a delightful satsang. This would be the last event for the travel mission's California stop, and then off to New York.
From Our Gurus' Teachings
Bodhinatha's Latest Upadeshas - Commentaries on Path to Siva
What Is Our Code of Conduct - Niyama.

In Patanjali's comments on the niyamas he speaks on religious action, kriya, bringing about samadhi and attenuating the kleshas. We think we have to be detached from that which we are attracted to but we also need to overcome aversion. It's easier to be finite, to have a past and a future than to be infinite, without past and future, so, we're clinging to life. The kleshas are the root source of karma. Quiet mental activity produced by the kleshas through meditation and achieve santosha, peace of mind. "Men of discrimination see sorrow in all experience."

Path to Siva, Lesson 40, Niyamas.

---

Click here to go to an index of all of Bodhinatha's and Gurudeva's online audio.
Archives are now available through 2001. Light colored days have no posts. 1998-2001 coming later.
Subscribe to RSS Feed