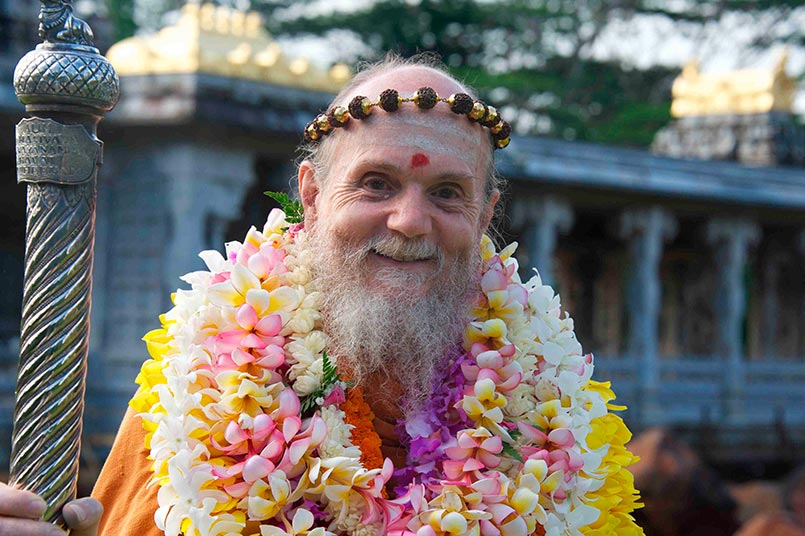 Bodhinatha's Latest Upadeshas – Commentaries on Path to Siva
What Is Our Code of Conduct – Niyama.
In Patanjali's comments on the niyamas he speaks on religious action, kriya, bringing about samadhi and attenuating the kleshas. We think we have to be detached from that which we are attracted to but we also need to overcome aversion. It's easier to be finite, to have a past and a future than to be infinite, without past and future, so, we're clinging to life. The kleshas are the root source of karma. Quiet mental activity produced by the kleshas through meditation and achieve santosha, peace of mind. "Men of discrimination see sorrow in all experience."
Path to Siva, Lesson 40, Niyamas.
Click here to go to an index of all of Bodhinatha's and Gurudeva's online audio.
One Response to "What Is Our Core of Conduct – Niyamas"
Rajendra Giri says:
February 14th, 2018 at 8:50 am

Thanks, Swami Ji,
Aum Namah Shivaya!
From Our Gurus' Teachings
Bodhinatha's Latest Upadeshas

The Meaning of Sivaratri and Nirvikalpa Samadhi

What is Sivatri and the Nature of Nirvikalpa Samadhi

Mahasivaratri: A time of striving to realize Parasiva. In our teachings yoga is the restraint of mental activity (chitta vritti). Nivritti marga-the path of renunciation. Pravritti marga-the path of action or life in worldly society. Ashrama dharma, a mental resting place within the 4 ashramas in life. The day before the new moon, as in monthly Sivaratri, nivritti energy is strong, an excellent time for austerity and meditation. Six Shum words defined related to meditation-withdrawal: kashum, nikashum, shumnikashum, bishumnikashum, abibishumnikashum, haiiaiibishumnikashum. Drawing energy up in to the transcendental Source of energy. Imkaif: Absence of awareness aware of itself. Nonexperience.

Master Course Trilogy, Dancing with Siva, Sloka 97.

Twelve Shum Meditations-Gurudeva's Introduction to the Advaitin.

Master Course Trilogy, Merging with Siva. Lesson 1.

---

Click here to go to an index of all of Bodhinatha's and Gurudeva's online audio.
Archives are now available through 2001. Light colored days have no posts. 1998-2001 coming later.
Subscribe to RSS Feed