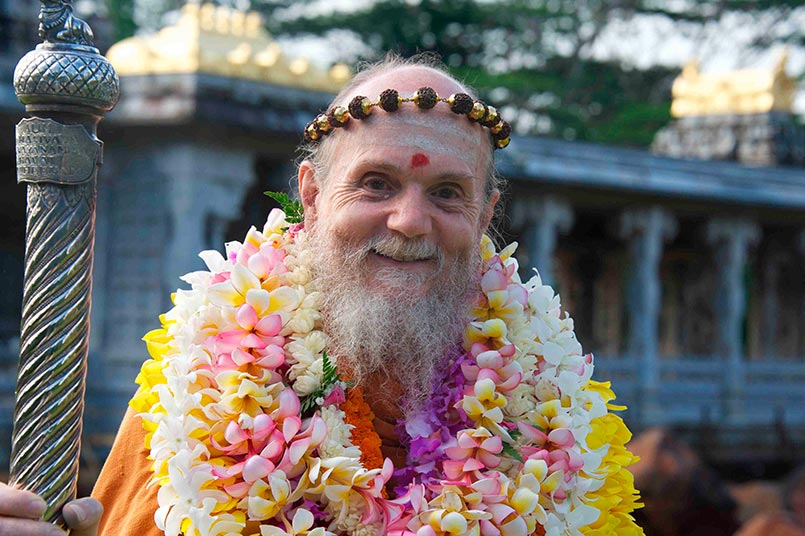 Bodhinatha's Latest Upadeshas – Commentaries on Path to Siva
What Is Our Code of Conduct – Niyama.
In Patanjali's comments on the niyamas he speaks on religious action, kriya, bringing about samadhi and attenuating the kleshas. We think we have to be detached from that which we are attracted to but we also need to overcome aversion. It's easier to be finite, to have a past and a future than to be infinite, without past and future, so, we're clinging to life. The kleshas are the root source of karma. Quiet mental activity produced by the kleshas through meditation and achieve santosha, peace of mind. "Men of discrimination see sorrow in all experience."
Path to Siva, Lesson 40, Niyamas.
Click here to go to an index of all of Bodhinatha's and Gurudeva's online audio.
The photo of Sadasiva you see here is not a photo at all. It is a 3-D digital image, part of a remarkable process that has been happening for over a year. So remarkable, auspicious and miraculous, in fact, that it has been awarded the 2018 Monks' Superlative Achievement Award for Amazing and Awesome Accomplishments. Not an award we give lightly.

In sum, this image was scanned from a small, 14" tall sculpture lovingly envisioned and crafted by two long-term supporters of Gurudeva's work and the monastery and its magical spaces. The small statue is called a maquette in the art world, a diminutive version of what will eventually be a larger work.

The miniature (which has as you see astounding detail for its size) was scanned with state-of-the-art technology as the slideshow reveals. It will be scaled up to 54" tall and then a 3-D printer will slowly build the sculpture at the final size. That will be fine-tuned by the artist and a mold made for casting the sculpture in bronze. It takes dozens of skilled artisans to bring such a master work into manifestation.

It is to be a gift to Siva's Sacred Garden and will ultimately be shipped to the monastery for installation and for all future pilgrims to encounter this most mystical and mysterious form of the Divine. Indeed, there may be no image of God with such profound meanings.

If you want to explore the full depth of Sadasiva, you can find it here at the Hinduism Today website where we did a major story on this traditional form.


The highly-illustrated PDF with all the amazing art and charts can be downloaded here

Meanwhile, join us in putting our palms together in gratitude to the couple who is creating it, and enjoy more about Sadasiva in the following slideshow. Aum Namasivaya!


From Our Gurus' Teachings
Archives are now available through 2001. Light colored days have no posts. 1998-2001 coming later.
September 2018

1

2

3

4

5

6

7

8

9

10

11

12

13

14

15

16

17

18

19

20

21

22

23

24

25

26

27

28

29

30
October 2018

1

2

3

4

5

6

7

8

9

10

11

12

13

14

15

16

17

18

19

20

21

22

23

24

25

26

27

28

29

30

31
November 2018

1

2

3

4

5

6

7

8

9

10

11

12

13

14

15

16

17

18

19

20

21

22

23

24

25

26

27

28

29

30
December 2018

1

2

3

4

5

6

7

8

9

10

11

12

13

14

15

16

17

18

19

20

21

22

23

24

25

26

27

28

29

30

31
May 2018
1
2
3
4

5

6

7

8

9

10

11

12

13

14

15

16

17

18

19

20

21

22

23

24

25

26

27

28

29

30

31
June 2018

1

2

3

4

5

6

7

8

9

10

11

12

13

14

15

16

17

18

19

20

21

22

23

24

25

26

27

28

29

30
July 2018

1

2

3

4

5

6

7

8

9

10

11

12

13

14

15

16

17

18

19

20

21

22

23

24

25

26

27

28

29

30

31
August 2018

1

2

3

4

5

6

7

8

9

10

11

12

13

14

15

16

17

18

19

20

21

22

23

24

25

26

27

28

29

30

31
Subscribe to RSS Feed