Gurudeva would say that the mind, the conscious mind, is driven by its own novelty and always mulling over external things. Comfort. Safety. Pain. Desire. Fear.

He urged seekers to fill the mind with positive thoughts through the use of affirmations. If repeated, affirmations carve deep channels in the mind, changing fear to trust, regret to hope, penury to abundance.

It has been a long time since the human race faced such a compelling a threat as this pandemic. So never have we needed positive affirmations more.

With that in mind, we have assembled today a few of Gurudeva's little mental mantrams. If you find the world's predicament is overwhelming you and those around you, just pick an affirmation and repeat it for a few minutes. It will be a medicine for the mind, a salve for the spirit, a comrade during quarantine.
Today the first QR Code was installed in Siva's Sacred Garden. For several years we have plotted and planned to do this, and now it has begun. Our plan is to have a QR Code at each major place in the monastery, to inform visitors (when they start returning, since today Hawaii announced a complete quarantine starting March 26).

This one is placed at the Silpi Bronze Pavilion. If you use your mobile to scan the third slide in this post, you will be immediately swept into the silpi world on the wings of a 2 minute video (thank you Rajkumar for your editing help).

The idea is that even though the bronzes tell the visual story of how Iraivan is being sculpted, it is missing that musical sound of their chip, chip, chip. Now visitors standing at the pavilion can experience the sounds of creation.

Aum Namasivaya!



A short introduction to the ancient and astonishing process by which hereditary stone carvers can create beautiful works of architecture—such as Kauai's Iraivan Temple—out of a simple hammer and chisel. This video will be accessible from the Sipli Pavilion near Iriavan Temple via a QR code which will be decoratively displayed nearby. Aum.

Video edited by Rajkumar Manickam
With the recent rains subsiding, it's a great time to get out and enjoy the lush natural beauty of Kauai Aadheenam. Let's see who we come across along the way.

"Just go about and do your work. Enjoy the beauty of the world! See yourself everywhere. That is the greatest secret!" Yogaswami

During the 9/11 attacks Gurudeva spoke to assuage the fears that arose from the senseless killings. People everywhere were thrown into the lower chakras and he urged all to not go there. Instead, he offered that this tragedy would pass. In the meantime, he said we can use this time of outer disturbance to strengthen our inner life and sadhana. Dive deeply within, where we are perfect, calm, fearless. Now the entire globe faces another crisis. It is rare for every household in every township in every nation to be thinking about the same thing, isolating in the same way. It is a shared humanity that arches above differences and touches each one in exactly the same way. It may even have the power to change us as a species, for the better.

In Living with Siva Gurudeva speaks of protection in the home (where many are now secluded):

"When the devas within your home see you performing your sadhana each day, they give you psychic protection. They hover around you and keep away the extraneous thought forms that come from the homes of your neighbors or close friends and relatives. They all mentally chant "Aum Namah Sivaya," keeping the vibration of the home alive with high thoughts and mantras so that the atmosphere is scintillating, creating for you a proper environment to delve within yourself. The fact that the devonic world is involved is one more good reason why you must choose a specific time for sadhana and religiously keep to that time each day, for you not only have an appointment with yourself but with the devas as well. ...


Feel the power of the Gods in the puja. If you don't feel them, if you are just going through ritual and don't feel anything, you are not awake. Get the most out of every experience that the temple offers, the guru offers, the devas offer, that your life's experiences, which you were born to live through, offer. In doing so, slowly the kundalini begins to loosen and imperceptibly rise into its yoga.

That's what does the yoga; it's the kundalini seeking its source, like the tree growing, always reaching up to the Sun. It is up to you to make the teachings a part of your life by working to understand each new concept as you persist in your daily religious practices. As a result, you will be able to brave the forces of the external world without being disturbed by them and fulfill your dharma in whatever walk of life you have chosen. Because your daily sadhana has regulated your nerve system, the quality of your work in the world will improve, and your mood in performing it will be confident and serene. When your sadhana takes hold, you may experience a profound calmness within yourself. This calmness that you experience as a result of your meditation is called Satchidananda, the natural state of the mind. To arrive at that state, the instinctive energies have been lifted to the heart chakra and beyond, and the mind has become absolutely quiet. This is because you are not using your memory faculty. You are not using your reason faculty. You are not trying to move the forces of the world with your willpower faculty. You are simply resting within yourself.


Therefore, if you are ever bothered by the external part of you, simply return to this inner, peaceful state as often as you can. You might call it your "home base." From here you can have a clear perception of how you should behave in the external world, a clear perception of your future and a clear perception of the path ahead. This is a superconscious state, meaning "beyond normal consciousness." So, simply deepen this inner state by being aware that you are aware.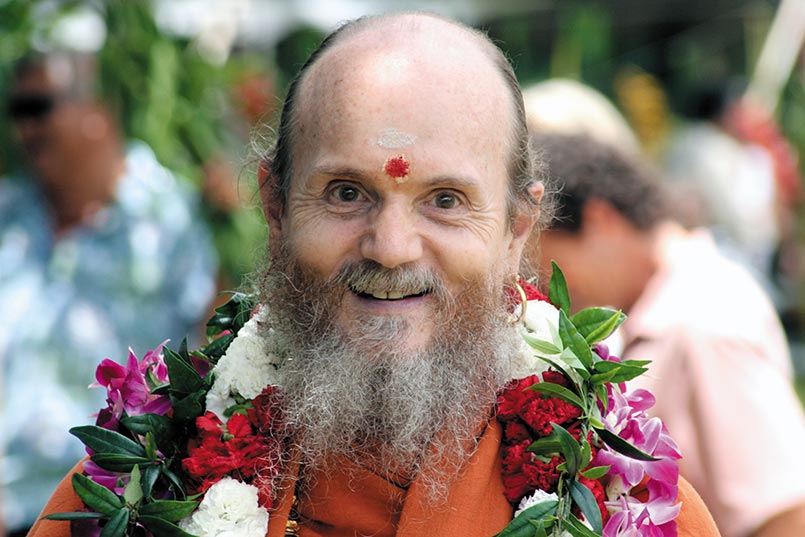 Also available on mobile via the SivaSiva.App
Ahimsa, All Life is God.
---
Mystic Power of Darshan, Vision of Oneness?
---
Inner Worlds Open, Increased Sensitivity
---
Nine Ways to Merge with Siva, Go As Deep As You Can
---
Four Stages of Vedanta Versus Siddhanta
---
Expanded Consciousness-Apex, the Pulse of the Universe
---
Concentrate at the Top of Head, Going Beyond the Light
---
Click here to go to an index of all of Bodhinatha's and Gurudeva's online audio.
Jai Ganesha!

This week our little island has been seeing a large weather system rolling over. We've had so much rain in the last 24 hours that our rain gauge has overflown and our river has risen substantially. A time to deeply appreciate whoever invented the umbrella. In other news, our monks recently cleaned the ocean air-induced build up on the surface of Iraivan Temple's Avudaiyar. Now the temple's inner sanctum is enjoying a newfound glow. In our vegetable gardens we have a new pumpkin patch coming online, which will be the inspiration for some hearty pumpkin curries. Yum!
Satguru Bodhinatha Veylanswami gives his weekly talk in Kadavul Temple at Kauai Aadheenam. Today Satguru reads from lesson 339 of Sivaya Subramuniyaswami's book Merging with Siva, discussing the depths of inner experience.
With increasing concerns flooding in from devotees around the world for the health and safety of our monks and island members, we are reminded of just how much love there is out there for this small band of souls. Like most, we have been following the potentially dangerous COVID-19 pandemic, and just today we heard of the first case on our little island. Each day visitors from all over the world arrive here. Satguru and the senior monastics have concluded that it is prudent to temporarily restrict access to the monastery, for the health of our island community, pilgrims, members and monks. Self-isolation is regarded as the primary strategy against this fast-moving virus.

For now, only Church members and pre-approved persons will be allowed to enter the monastery grounds. The MiniMela will be closed. Kadavul Temple will continue daily pujas for monks and members. Visitors will still have access to the sacred Rudraksha Forest.

Gratefully, all here are well. We thank you for understanding and hope to reopen access to Kadavul Temple as soon as it is deemed appropriate. In the days ahead we hope you stay safe and in good health, which is important for all on the spiritual path.

Aum Namah Sivaya. Sivaya Namah Aum.
From Our Gurus' Teachings
Archives are now available through 2001. Light colored days have no posts. 1998-2001 coming later.
Subscribe to RSS Feed