Results for: painting, rajam
Chandra and Surya continue their daily cycle over the sea as a woman sits contemplative at the shore.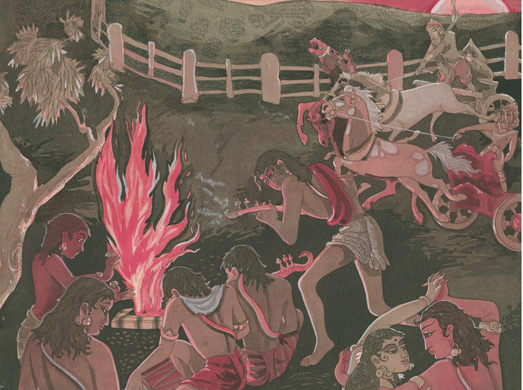 A strange, astral scene with musicians, couples dancing and flirting, and a chariot race
Women recline as though drunken, a liscentious man gazes at at a coquettish woman
Basavayya is the one who popularized and regularized the Veerasaiva sect in Karnataka. He worships his Ishtalinga which...
Men and woman look on as the archer releases his arrow.
Moonlit mountainscape with Yogi
Muruga, the commander-in-chief of the army of the Devas confronts and defeats the asura Surapadman at the seaside...
Krishna wedding scenes
Krishna wedding scenes (7/15/99) Indivar is making the transparencies for these