Don't miss Bodhinatha's fascinating commentary on Lord Ganesha!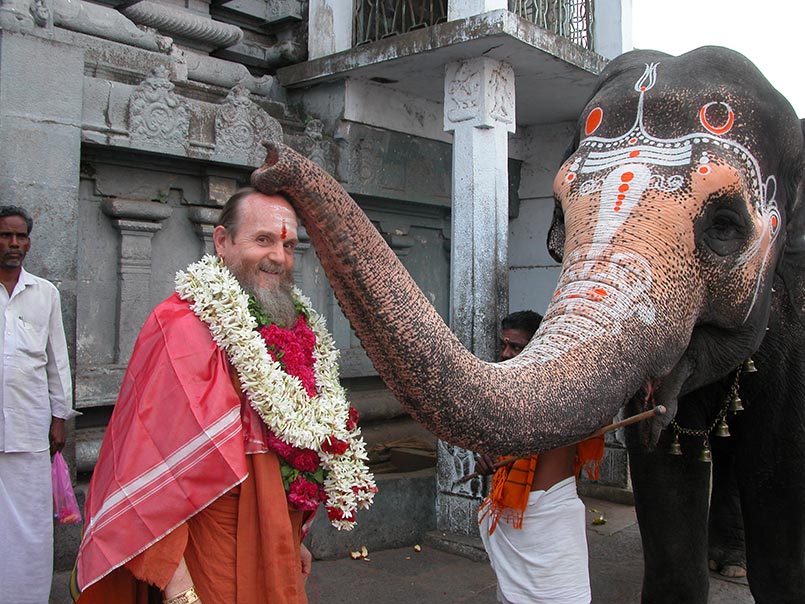 2 Responses to "Who Is Lord Ganesha – Path to Siva, Lesson 26"
Ramai Santhirapala says:
June 16th, 2017 at 2:11 am

Mahalo – listening to this starting one's day is a boon, such practical wisdom on contacting Ganesha on the road to secure consciousness. Jai Satguru Bodhinatha!

vinaya alahan says:
June 17th, 2017 at 4:48 am

Aum.
It is a great blessing for me to hear these talks. Thank you.
Aum Namah Sivaya.
From Our Gurus' Teachings
Bodhinatha's Latest Upadeshas - Commentaries on Path to Siva
Who Are the Devas, Lesson 29 (July 24,2017)

Religion is the working together of the beings in the three worlds. The first way we actually experience something of a divine nature, the power and energy in a temple, is our sensitized feeling nature. The Saivite beings in the inner world, Deities, saints, sages, devas, guide and govern, help and protect, shower forth blessings and inspirations to the members of our religious family. All worship Siva.

Path to Siva, Lesson 29.

---

Click here to go to an index of all of Bodhinatha's and Gurudeva's online audio.
Archives are now available through 2001. Light colored days have no posts. 1998-2001 coming later.
September 2017

1

2

3

4

5

6

7

8

9

10

11

12

13

14

15

16

17

18

19

20

21

22

23

24

25

26

27

28

29

30
October 2017

1

2

3

4

5

6

7

8

9

10

11

12

13

14

15

16

17

18

19

20

21

22

23

24

25

26

27

28

29

30

31
November 2017

1

2

3

4

5

6

7

8

9

10

11

12

13

14

15

16

17

18

19

20

21

22

23

24

25

26

27

28

29

30
December 2017

1

2

3

4

5

6

7

8

9

10

11

12

13

14

15

16

17

18

19

20

21

22

23

24

25

26

27

28

29

30

31
Subscribe to RSS Feed