Hindu History Resources
News Flash! The History of Hindu India - Part 1 Video
has been released! Click here for links
The history of India and Hinduism are important for all Hindus. Especially for youth, an authentic account of their religious and cultural traditions provides a strong sense of roots. Unfortunately in the West, and even in India itself since Independence, the academic presentations of Indian history and Hinduism are highly flawed, being done by those outside the tradition. They are deeply influenced by modern trends such as secular humanism, scientific materialism, Marxist thinking and atheism. In educational social studies text books there is an incredibly strong editorial bias to show all things good, wholesome, praiseworthy and religious in the time line of Abrahamic religions, completely avoiding such horrors as the crusades, inquisition of the Christian faith and the spread of Abrahamic religions by the sword through time. But for Hinduism the focus is almost always on what are perceived as negative features of India's social landscape. This has led to the production of school texts that present Hinduism to young people in a very bad light. Himalayan Academy Publications, though its flagship magazine, Hinduism Today and new books, is working to help correct the problem by producing publications that provide an historically accurate view from the Hindu perspective.
The July, 2014, release of the 23-minute movie "History of Hinduism, Part 1" represents a milestone in this work. Years of work to produce a set of professionally prepared grade-school texts has been turned into a video to convey the truth to today's web-facing generation. This video specifically covers the historical time period usually taught in 6th or 7th grade social studies in the US and is an appropriate supplemental resource for such classes.
The movie has also been done with subtitles in several other languages. If you would like to help translate this video into other languages, please contact studyhall@hindu.org.
Below we list links to resources that may be of use to you in your community or school. Many grade school teachers have discretionary options to choose cirriculum materials for their classes. We encourage you to get these lessons and help correct the decades of ignorance that have plagued the teaching about India and Hinduism in today's schools.
For reviews, endorsements and more links about Hindu History across the World Wide Web, check out our history page at Hinduism Today magazine site.
The Video—History of Hindu India, Part 1

Note: Narration is in English in all versions
The Printed Publications
All Five Lessons in One Book
Now with Additional Photos and Glossary
Click here to order hard-bound book (quantity discounts available).
Click here to download in popular epub formats for free.
Individual Lessons (carton prices available for bulk distribution)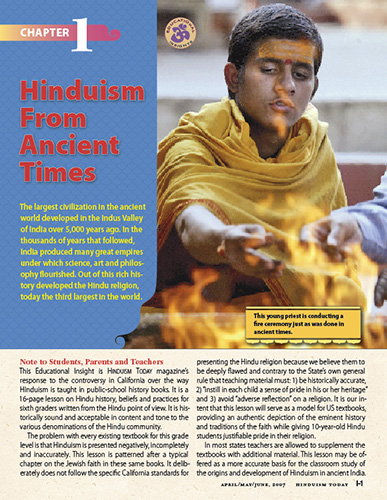 Hindu History, Chapter One
This Educational Insight is HINDUISM TODAY magazine's response to the controversy in California over the way Hinduism is...
Hindu History, Chapter Two
This Educational Insight is the second chapter in our series on Hindu history intended for use in US...
Hindu History, Chapter Three
This Educational Insight is the third chapter in our series on Hindu history intended for use in US...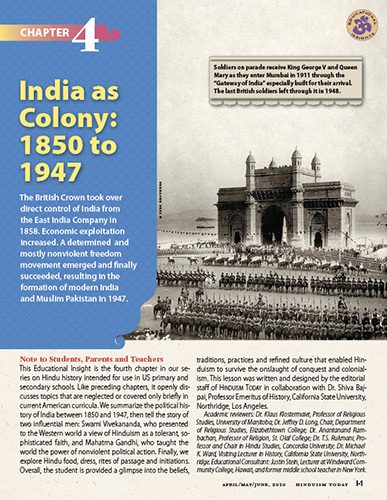 Hindu History, Chapter Four
This Educational Insight is the fourth chapter in our series on Hindu history intended for use in US...
Hindu History, Chapter Five
This Educational Insight is the fifth and final chapter in our series on Hindu history for use in...