Kaivalyanathaswami enjoys a good-bye-for-now chat with Luisa Vaca in our Wiliwili Mandapam. She is an enthusiastic registered Master Course student who has just completed a month-long pilgrimage here. Today, she is returning to her home to in Castaic, Southern California. "This has been a tremendous time for us," she said. (Her 20-year-old son, Sebastian [not pictured], had joined her for two weeks of the pilgrimage). "It has brought us a lot of clarity and understanding. It's helped remove obstacles and brought us closer to the Deities! We really feel good about that. It was a great experience that taught me the deeper meaning of pilgrimage.
Luisa is originally from Peru and remains close to that country and its culture. In fact, in a few days she will be traveling there with Sebastian on a different kind of pilgrimage, to visit with the ancient Q'ero people whose ways of living and philosophy she finds identical to that of Hinduism and Saivism. Buen viaje, Luisa and Sebastian! We are eager to hear of your experience there.
Chapter One: The Great Story of Awareness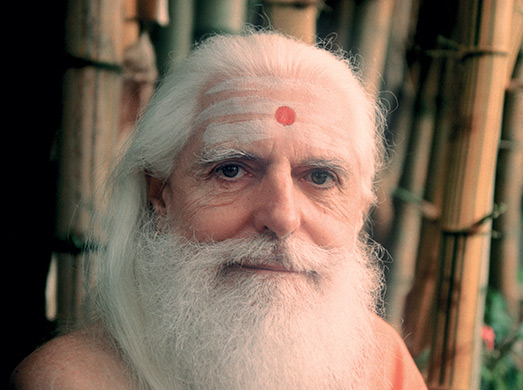 For those who saw this post several weeks ago, and were surprised to see them disappear suddently, we have improved the speed and audio quality and added proper MP3 tags and are now release these as good to go.
Gurudeva's 1970 Audio Master Course transformed the hearts, minds and lives of 1000's of spiritual aspirants. Several generations of seekers have passed through these last 4 decades and many have never heard of this treasure. Gurudeva lays out the core metaphysics of spiritual evolution in very simple terms.
We want to give a special thanks Iain Morland in the UK who has professionally restored the digitized versions of these very old audio tapes and brought them forward to good quality MP3 files. Now Gurudeva's powerful presence feels like he is right with you today!
In 1970's the sadhana/practice/course was to listen to each one of these 12 tapes 3 times in one week. Then move to the next chapter. The course also had transcripts to read as you listened and took three months to complete. Some young Hindus recently heard some of these talks and were "blown away... awesome!" so the message is ever fresh and ever powerful, 40 years later.
Click here to listen or download to your computer or mobile device
NOTE:
Small request for help: In our archives, we are missing a copy of the printed booklet of Chapter One of the course. In the front of each chapter transcript is a message that we have included in the web version, but we need to get that message from the Chapter One transcript book. If you have a complete set of this old course, please open to the first page that describes the meditation, visualization and practice that should accompany Chapter One, type this up and send it in an email to
studyhall@hindu.org
Thank you!
We present to you quotations from Merging with Siva and Tirumantiram on Love and its identity with Siva. Specifically, these are taken from Chapter 18: Love is the Sum of the Law. Remember, as you go about your day, the love that flows through your Being is the same as the love that flows through everyone you meet. Every animate and seemingly inanimate object. Your family, friends, and that one person (or those persons) you really wish didn't exist. You all share the same love and that love is Siva. Anbe Sivam!
The Kindle edition of the German language Merging with Siva (Vershmelzung mit Siva) can now be purchased on Amazon.
Other epub versions of Vershmelzung mit Siva can be downloaded (for free) at the Other Languages page of the Read & Learn section of our website. Erleben!
From Our Gurus' Teachings
Bodhinatha's Latest Upadeshas:"Awareness, Meditation, Work" (June 22,2016)

The mind doesn't move; awareness moves. We have control. Sitting still, restraining the mind, nirodha of the vrittis, is what's changing subconscious from the inside out. Being spurred on by the guru, strive for improvement, seeing progress. Look inside, find happiness and then share it. When not in meditation work to refine every attribute of your nature. Be in the world and be fearless. Face what you need to do and do it well.

Master Course Trilogy, Living with Siva, Lesson 99.

Click here to go to an index of all of Bodhinatha's and Gurudeva's online audio.
Archives are now available through 2001. Light colored days have no posts. 1998-2001 coming later.
September 2016

1

2

3

4

5

6

7

8

9

10

11

12

13

14

15

16

17

18

19

20

21

22

23

24

25

26

27

28

29

30
October 2016

1

2

3

4

5

6

7

8

9

10

11

12

13

14

15

16

17

18

19

20

21

22

23

24

25

26

27

28

29

30

31
November 2016

1

2

3

4

5

6

7

8

9

10

11

12

13

14

15

16

17

18

19

20

21

22

23

24

25

26

27

28

29

30
December 2016

1

2

3

4

5

6

7

8

9

10

11

12

13

14

15

16

17

18

19

20

21

22

23

24

25

26

27

28

29

30

31
August 2016

1

2

3

4

5

6

7

8

9

10

11

12

13

14

15

16

17

18

19

20

21

22

23

24

25

26

27

28

29

30

31
Subscribe to RSS Feed