women looking to the sky seeing another women playing music and dancing; 4 faced person near a temple
Lord Siva as an Onlooker in A Courtroom Scene. A Woman Prays to Sadasiva.
Lord Siva is the Bestower of Wealth in a Devotee's Dream
A King's Decree Brings Sorrowful Responses. Poor Families Suffer, and Brahmins Must Depart Their Homes.
A Ksahtriya has dismembered a person, and a frightened couple plead his mercy.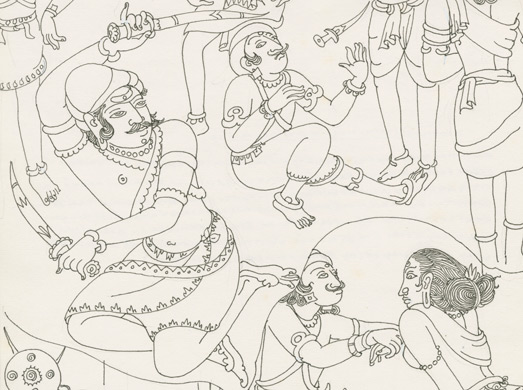 A Woman Terrorized by a Thug is Assisted by a Warrior Who Overcomes the Intruders
A Hunter and HIs Wife Converse; People Perform Acts of Dharma
people carrying bags in woods; man cutting off another mans head; man and women holding each other;
3 people sleeping on the floor; 2 people next to a pole; 2 cows; 2 asuras