As you may know, in 2009 our Siva Poomi Elderly Home purchased 300 lachchams of land (about 40 acres) in Jaffna with the help of 6 families from California. We call this land Siva Poomi Farm.

Since then, much work has been done on the farm. When we purchased the land, it was abandoned and overgrown; now the land has been cleared and fenced, and we put a small building on it with a water tank. This is the third year we have planted rice in the 100 lachchams paddy field and are expecting a good harvest early in 2012. This rice will be used for Elderly Home meals. On the rest of the land, we have planted 400 coconut trees, mango trees, banana and lemon trees. We have also planted onions and vegetables. We now have a small dairy with 6 cows on the farm. Any milk produced in excess of what is used for the elderly home is sold locally. The farm has two full-time employees; seasonally we hire local people to work on the farm.

Our sincere thanks go to Manitha Neyam Trust and the donors. Click here to donate to this trust via the Hindu Heritage Endowment. In March, we purchased a two-wheeler tractor for the farm. We are a long way from being fully self-sufficient, but we are on our way to it. The farm not only provides for the Elderly Home, it also provides employment locally.

Thanks to a small group of kindhearted souls halfway around the world in California, people are obtaining benefit from their generosity in their motherland.

In Peace,

Rishi Thondunathan

PS. I am enclosing some photos of the farm and the Elderly Home for you to enjoy.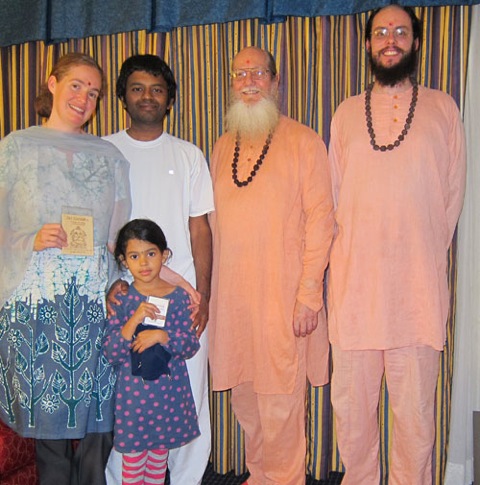 Shanmuganathaswami and Siddhanathaswami are in Los Angeles and met with Mayuran and Amanda Muttulingam, avid readers of the Master Course trilogy. The two swamis gave their daughter Lalitha a gift of the Devatrek playing cards. Five year old Lalitha is an expert Go Fish player, and the four games which may be played with the Devatrek cards are an exciting new challenge to her playing cards skills. We look forward to her beta testing comments on the games. The cards are available at our www.minimela.com eStore along with many other books and artwork for kids. Amanda is holding a prototype wood etch with Ganesha on the front and Aum Gam Ganapataye on the back. This was designed by our new monk, Sadhaka Mayuranatha, and etched on our Epilog wood etcher. Lalitha will place the Ganesha next to her bed to remind her of Ganesha before sleep.
From Our Gurus' Teachings
Bodhinatha's Latest Upadeshas - Commentaries on Path to Siva
The Saiva Path, Lesson 30 (September 8, 2017)

Key concepts: Naalupadasaivam: "A Saiva doctrine that the initiate should pass successively through charya, kriya, yoga and jnana stages and thence obtain moksha." The charya pada, the dasa marga, path of servitude. Sharing the world of God. The kriya pada, satputra marga, true son's way. Nearness to God. The yoga pada, sakha marga, way of the friend, experiencing inner light, sharing the superconscious mind. We talk to God. The jnana pada, san marga, sayujya patavi, union with God. There is no difference between Siva and the soul. God is our dearest Beloved. The three types of temples provide training and experience leading to worship and meditation in the Atma kovil.

Path to Siva, Lesson 30.

---

Click here to go to an index of all of Bodhinatha's and Gurudeva's online audio.
Archives are now available through 2001. Light colored days have no posts. 1998-2001 coming later.
Subscribe to RSS Feed