The SivaSiva App
Portals to Lord Siva's Realm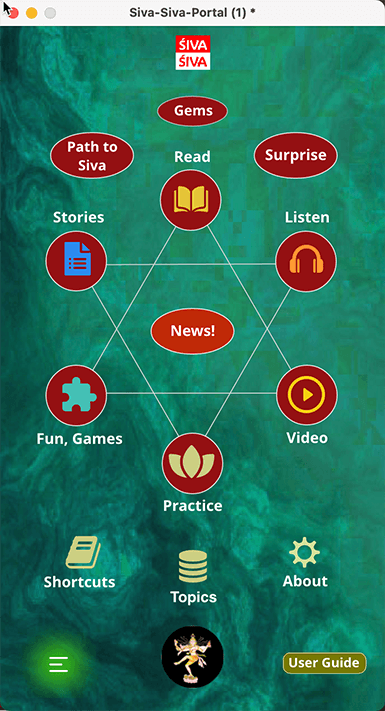 Stable (Free) Versions
To get the stable version go to Google Play or to iOS App Store:
---
From the Himalayas, to India, to Sri Lanka, to Hawaii, to the world —
Resources for the 21st Century Digital Age Saivite Generation.
Join us for an exploration of our spiritual culture and help brainstorm tranmission to the future.
The new SivaSiva App is now available on the app store.
Go here (on your phone) to download.
The Android version will be released soon. Follow the news at our
Himalayan Academy Facebook page.
"SivaSiva" is a revered mantra from South India naming the divine within all. This app is a portal to the ancient, profound wisdom and rich culture of that tradition, retooled for the 21st century. It seeks to reach today's mobile generation who seek to understand Eastern metaphysics, find spiritual roots and enjoy authentic spiritual experience.
SivaSiva offers inspirational quotes to uplift your day, awesome photos and art, access to an extensive audio library, YouTube videos and more. Version One has tools for practice and study. Use the app to learn the basics of Saivite Hinduism by diving into the Path to Siva book, which is resident in the app even if you are off line. Read the daily Master Course lessons and practice Color Meditation. The entire current issue of Hinduism Today magazine is available inside the app. Quotes from books give you instant access to their source. A journal tracks your history. Tap favorites to come back to them tomorrow. Have fun with the word-puzzle and learn key concepts at the same time. SivaSiva is a tool for all those who seek daily spiritual upliftment.
The first versions of the SivaSiva App provide structured mobile access to the vast resources of the www.himalayanacademy.com site. The SivaSivaApp will provide new models for accessing and interacting with content related Saivite Hinduism that can be quickly viewed, and easily digested in a few minutes. If you have more time, the app provides a gateway for you to dive deep into our media collections. Later versions will bring new and interesting tools for your spiritual life, practice, study, fun and upliftment, enabling access to an ancient culture for a new generation of Saivite Hindus many of who are cut off from their rich heritage.
We are presently testing on Android only. Click in the following link on your phone, to download and install the app
Change Log
Version 1.4, RC 1, Mar, 2019
Completely revamp navigation.
video resize stack landscape scape (no footer)
Fixed the speaker locations at the top of navigator page.
fixed for this release only go to My Downs is the Journal for Listen
fixed: footer on the loader screen of html
Removed context from Puzzle
Fixed Journal entry for Hindu Calendar - [eg] Kapaa, HI
Journal should not record the lesson of the day. Only the module
fixed find in Path to Siva changed it to Helvetica Neue.
change to location of audio speak of card one two.
FIXED: share appears in the wrong place in some module not way to dismiss it, should disappear on click any chose (facebook,twitter, email)
And More....
Change Log
Version 1.4, Alpha 2 Feb 6, 2019
An attempt to make lay out dynamic for differen side screen. On the main portal stack in implemented
Faster start up on going from the "home story" to Global nav panels
Optimize the readability of global not.
new icon for going to story.

Change Log

Version 1.4, Jan 23th, 2019

A complete new opening and interface to the Portal Navigation. The opening has content -- in this case a slideshow that has quotes from Word of Our Master (more "stories" to come in future versions)
Navigation the Portals and Module are available on two screens without scrolling
We have, hopefully, provided a very robust method testing the internet connection. The app tells you whether you can or cannot access certain content, without blocking further action.
The Word Puzzle will now accept multiple occasions of the same word at multiple locations. What this means is words like "the, and, of," etc. you can put the words at any location where they fit the grammar of the sentence. With the exception of a word with a period after it. They must go to the end to the sentence.
Although quitting an app is available on any device. Some users who like close while it in. Not you can do so: go to Settings and click "Close App."

As usual, the first priority is the make sure the app doesn't crash. If it does, write down when and how to crashed. Secondly, do you find anything "odd" that you would not expect? Third, any enhancements and feature requests.

Version 1.3, May 25th, 2018

The Listen module was finished (in iOS and Android)




Known Issues

In low bandwidth conditions, you may see a white screen while the page loads from the web
Similarly, in the Surprise Me module views of darshan and art, which are files being streamed from the web, may take a bit more time.



Change Log

Version 1.2.1, June 1th, 2018

Only Available in iOS. Change involved to listen module, sound be turned off when from another modules by click that speaker icons
Version 1.2, May 25th, 2018

The Listen module was finished (in iOS and Android)

Version 1.1, December 25th, 2017

Updated for iPad
Improvements to help with Android issues
Production version release on Google Play for Android and App store for iOS

Version 1.0.3

A bug in the WebGL global variable implementation on Android was fixed and hopefully resolves some crashes and rendering issue when moving back and forth between modules or leaving the app and then returning via the app switch or settings button on Android.
A new module has been added under Settings title "My Data" You can check your downloads and remove files to recover disk space. Note that Beta testers who delete the previous app will lose all their downloads. To test this new feature, go to Listen, choose a songs, click the little downloads icon on the lower right and save to your device.. then go to My Data to see the disk space taken and delete the file.
Content is now cached on Cloud Flare's CDN (content distributed network) users in Europe or Asia will be receivingt their content from Cloud Flare's servers in those regions. This means that over time more and more cached content will be delivered much faster to all our users. Note that the daily blog may still take time, given all the photos we put into the slideshows.

Version 1.0.1

Impediments to iPad installation removed
Background execution enabled. SivaSiva app no longer automatically quits when you go to another app on your device. You could be reading the daily lesson, in the middle of a puzzle or listening to a song. If you have to stop and take a phone call, or switch to Instagram or email etc. you can click back on SivaSiva app and return exactly where you left off. We decided, for now, unless here it huge demand, not to have background audio on, as not all users appreciate having the sound continue when they leave the app. Background audio of course will continue in app itself. Hit the gear and the audio icon to turn it off.
Portals screen fixed to scroll smoothly
Portal screens color themes upgraded
Major change in the navigation engine. It now moves directly from one module to another with no "in between" screen
Hit zones for many arrows enlarged so that app feels more responsive. You don't have to touch the arrow exactly for the app to respond. (Still more to do there)
Upgraded image quality on portal screens
By popular request: major change to Surprise module: when viewing a collection of quotes, moving forward will choose another random quote, but from the same collection.
Journal entries for Surprise model more robust in returning to the media you were at... but still random selection. For verses you return to the collection you were in.
Fixed a crash problem with moving in and out of the Journal. We needed to simplify the engineering behind this, so the the back arrow on the Journal always takes you Home.
Fixed a probem in Surprise Audio where rapidly forward to a different audio would evoke and "Existing controls" error... hopefully this has gone away.
Cosmetic closure "Aum Tat Sat" added to the end of the daily lesson so user knows they have reached the end.
Known issues: Still not available for Android

RC7 make an important change in the underlying engineering behind navigation across various modules in the app. There is still a known issue when Android users use their Home button or App Switcher button to leave the app. When you return the app will stop. But we would like you to test all features without leaving the app and send reports on any failures.
RC6 has major improvements in app stability in relation to your network connectivity status. Some modules require access to the cloud, others do not, meanwhile users are moving rapidly between WiFi, 3G, LTE or switch to Airport Mode--turning off network access completely. The app should now remain stable through all these differing contexts and gracefully inform the user without stopping or hanging. Please test but accessing the app, the going to airport mode, trying different activities then back. And we are happy to announce a major bug fix for Android: You can now go to your home button or app switcher, and return to SivaSiva App without the app stopping (we hope!)
RC5 fixes a regression bug in the listen module introduce by the search function. If you searched and then play the audio, it would be entered in your journal, but you would not go back to that audio. Now it will return you do that audio file correctly. Please test this. Also we have added user activity tracking. See our privacy policy for details. Please use the app for a while, the quit the app completely and then restart. On our end we get details based on an anonymous GUID for your device... e.g.

Siva Siva App 9027357449577838705 navigation/topindex NULL {"contentTarget":"surprise","module":"Portal"} 2017-09-04 21:12:06

which provides us analytics for determining how to improve, what is most popular etc.

ANDROID USERS: RC5 still has the home and app switcher bug where the app will stop when you return to it after using these buttons, we are working on it..
RC4 adds search to the Listen module. Since we exposed our entire audio collection in-app, we need a quick way, in Version 1, to allow users to search. Click the "More" icon (3 vertical dots) which will appear when you access the Songs or All Bodhinatha or All Gurudeva Talks. when you see them (not needed for audio books or e "latest"). We also upgraded our in-app notification to follow the Googles Material Design UI Toast specification: a small panel rise from the bottom of the screen with message you need to see and then slide back down. iOS users are encourage to try everything any problems with the next 72 hours. On Tuesdays or Wednesday of next week we will submit the app for approval to Apple's App store. So anything you find that is a bug, let us know as soon as possible. ANDROID USERS: the app is fully functional with some small anomalies. Please report in minute detail exact what you see and when. Please DO NOT user the Android hardward buttons for Home (round button) or the App Switcher (square). If you do, when you return, the app will stop. Nothing "bad" happens, but you would need to reboot SivaSiva app on your phone. This is a known issues on Android and we are working on it. We encourage you to try the all aspects of the app without touching those two buttons, and report back anything you discover that is not working properly.
This version has a single but major feature addition: you may now download audio while connected to the internet and listen to this later. Please go to the Listen portal and click on any of the three top playlists. When you click on a selection that is still colored black, it means you are streaming from the cloud. The download button will appear. On iOS this button appears on the right side above the controller, on Android it appears on the left. Click this button to go to the downloads page. Note for Android users: the play list is still appear on top of the picture. This will be fixed before going live. This does not happen on iOS. After the download is complete, the download window will close and you will be back at the play list. The item you downloaded should now appear as a green link. Go ahead and download items from different play lists. then later go to some place where you have no internet connection and you should be able to play the green selections immediately. Test Request: Please try out the new audio feature and send feedback. Does it work? We kindly request all Android users to give the entire app a "work out" by going to the different modules. We need minute details on exactly when and what you do that may cause the app to stop.

Aug 2, 2017 -- RC 2
Updates in this release and testing requests:

This version has some engine changes which we hope will help with the app stopping on Android. Test Request: We kindly request all Android users to get the app a "work out" by going to the different modules, especially the puzzle. Exit the puzzle turn your phone upright etc. If the app does stop, please start it again and try to reproduce exactly what you did and report this action to us. iOS seems to be stable.
Journal/History entries should now all show a proper label and icon. Please let us know of any journal record that does not have a proper label.
The Favorites star on the left of jounal entries is bigger and darker and easier to tap. It will turn orange indicating your selection. Use this to select item you wish to return to but clicking "Favorites" at the top. Test Request: please try the top three filters on "Favorites" "Filter" and "Past
By popular demand, Word Puzzles now include a clue. When you create a new word puzzle the first word is automatically placed after a moment and if you click "clues" additional words are placed. The "delta" area around the home position of each word, causing it to snap in place has been increased so the puzzle tiles are more easily placed.
Sanskrit chants on our web site now display as an in-app play list. You do not go to our web site.
There is a new in-app news feature which is a live feed that we can use to keep you up-to-date.

Known Issues

Audio requires an internet connection. We hope to provide a download option in the RC3 before going live, so that you may listen to audio off line after downloading it when you have good bandwidth.
It takes a lot of time on Android for the puzzle to appear while the app is creating image tiles of the words in the back ground before they are displayed. We may not have a solution for this until a later version.

July 19, 2017 --RC 1
This release includes much requested features for the Surprise Me module. You can now "flip through" random images and audio. The Journal has been upgraded to all you to return to an audio that you were listening to. Hopefully we will also soon be able to take the point where you left off when you were listening to that audio before. Sharing is now fully implemented (we hope) in order to test it we had to turn it all "on" you may feel free to share things with friends and family, but please do not make and Facebook posts until we upgrade this web page.

July 19, 2017 --RC 1 (Release Candidate)
This release includes much requested features for the Surprise Me module. You can now "flip through" random images and audio. The Journal has been upgraded to all you to return to an audio that you were listening to. Hopefully we will also soon be able to take the point where you left off when you were listening to that audio before. Sharing is now fully implemented (we hope) in order to test it we had to turn it all "on" you may feel free to share things with friends and family, but please do not make and Facebook posts until we upgrade this web page.

RC1 is feature frozen. But enhancement and feature requests are encourage and will be taken into consideration for the roadmap for future versions.
We are primarily interested in any bugs or failures. iOS appears to work well, assuming you have bandwidth. Android has some issues here and there. We will appreciate our Android users testing all features and send feedback.
Audio is now persistent across the app, it will also run when your phone 's screen is dimmed.
To stop the audio, click on the settings gear and tap the audio icon
By popular demand the four square icon was changed to "home" icon
Surprise module was upgraded extensively to allow you to move to other verses, artwork, darshan, or audio. This feature will not be made available for video. But audio view is logged in the journal. Use the white, right facing chevron/arrow at the top of Surprise Me screens to go to another random item.
art and darshan photos should now alway appear in a proper aspect ratio. Tap to shrink or expand big images. Use you finger to drag around to see parts of a large image. Please report experience of images being distorted (squashed vertically or sideways)
Journal records are more robust and should show better information.
So as not to overload the journal, we do not record items that you go to by flipping through random items. We only record what kind of Surprise you were looking at and take you back to that media type (verses, art, darshan photos, audio, video).
The journal will now record and return to any audio you found in Surprise Me or in the top three Listen playlists
Sharing is fully implemented. You can share items by twitter and email. These will say "Siva Siva App coming soon!" Siva Siva app now is an officially registered Facebook app and sharing to Facebook also works if you have an active account, but we request you not ot make any Facebook posts until we upgrade the web page for the app.
Journal Favorites icon has been made bigger and brighter, click on the star on the left to add a favorite, then click on the favorites tab to see your favorites. Use this to set up a "queue" of items you may want to focus on tomorrow, or later.

July 12, 2017 -- Beta 0.5 FYI this is quick release with small bug fixes. The Web views were blank last night and should now all be working. These are the link on the Monastery Web Site, Read, Look, and Listen. At the Listen portal the top three links go to native app play lists, but they also call files from the web server. In Version 2, we will give users more options to download content so they do not need a web connection for many activities.

July 11, 2017 -- 0.4 updates: FYI this app is CPU intensive and requires an internet connection for many activities. It may not perform too well in small Android devices.

This beta includes some bug fixes and UI improvements and 2 major new features:
Audio playing is persistent across the app. When you start a file you can move to other modules in the app and continue listening.
the Share button is working now but PLEASE DO NOT send out a tweet or email from the app until we go live, this is only for Testing purposes. The Facebook option is not working yet.
New Audio Interface. Click on Bodhinatha's Latest Talks, Guru Chronicles or Gurudeva's 1979 Master Course. All other audio links take you to the web site. We will be adding more "in app" playlists to make it easy to navigate. Please click on Bodhinatha's latest talks (internet connection required) and try playing the audio... presently on Android, the player controller may cover the lower buttons, use the back key on Android to exit to previous level.
The Journal: this is a a robust history feature that will log your activities and you can use this to go back to the module you were in before. it is based on the One Lap Top per child model around not merely history of web pages, but "activities" sometimes the journal will simply resume the activity by taking you back to the module. In other cases it will also tak you back to the exact point in the activity that you left off. For example you may be reading the Path to Siva ebook in the app. if you stopped on Chapter 3, then tomorrow you can go back to Chapter 3. Please test this: go all around the app, the click on the "star" button to go to the journal. Note that "favorites and "Filter by date" are not implement yet, they will be next week.