December 2021 Newsletter
Recent activity at Kauai's Hindu Monastery
Message from Satguru
Gurudeva's annual Mahasamadhi Chitra Puja homa and ahbishekam (the 20th since his Great Departure) was live-streamed on November 3. It was preceded by three days of morning pada pujas to build the inner vibration. Skanda Shashthi, held this year on November 9, is always a powerful event as our Lord Murugan shrine becomes vibrantly alive on that day. Many devotees attended via the live-streaming on YouTube. Despite the continued limited occupancy restrictions, attendance at Kadavul Hindu Temple was particularly strong during the last week in November due to the US Thanksgiving holiday season. The monthly Ardra abhishekam to Lord Nataraja also occurred during that period. My four weekend Zoom online satsangs focused on Gurudeva's unique contributions to the practice of Saiva Siddhanta. We are grateful to our global family of temple builders for your continued generous support in these challenging times. General contributions for November totaled $159,762, which is more than our minimum monthly goal of $70,000. Om Namasivaya.
- Satguru Bodhinatha Veylanswami.
Attend Weekly Zoom Satsangs
A live presentation by Satguru Bodhinatha Veylanswami plus devotional singing, discussions & testimonies by participants. Choose the session best for your time zone.
Hosted from Singapore:
10 AM Sunday Singapore Time
To join email:
dohadeva.samugam@gmail.com
Hosted from California:
10 AM Sunday Pacific Time
To join email:
easan.katir@gmail.com
Founder of Kauai's Hindu Monastery, Satguru Sivaya Subramuniyaswami (Gurudeva), 1927–2001
From Gurudeva's Teachings
The intrinsic and real nature of all beings is their soul, which is goodness. The world, too, is God's flawless creation. All is in perfect balance. There are changes, and they may appear evil, but there is no intrinsic evil. The soul radiates love, is a child of God going through its evolutionary process of growing up into the image and likeness of the Lord. Goodness and mercy, compassion and caring are the intrinsic, inherent or indwelling nature of the soul. Wisdom and pure knowledge, happiness and joy are the intrinsic nature of the soul. Can we believe the soul is anything but goodness itself, purity and all the refined qualities found within superconsciousness? When God is everywhere, how can there be a place for evil? The soul is constantly one with God in its ever-present Satchidananda state at every point in its evolution. How, then, arises the concept of evil and suffering? Anava, karma and maya, the play toys of the soul, are the source of this seeming suffering. Like a child, we play with the toys of anava in the playground of maya, fall and are bruised by karma, then run to our loving Lord for solace and release into spiritual maturity.
Explore Gurudeva's Wisdom
Study Gurudeva's Master Course, which is filled with philosophical, practical, soul-stirring information potent enough to inspire even a skeptic to change his ways of thinking about life and the ultimate goal of existence on this planet:
himalayanacademy.com/livespiritually/become-student/mc-options
Read Gurudeva's books online at:
himalayanacademy.com/readlearn/books
Listen to Gurudeva's inspired talks:
himalayanacademy.com/looklisten/talksindex
Happenings
Members and monks gather at Iraivan on Krittika Dipam to watch the traditional pillar of fire dance in the dark.
A crane lifts the granite elephants into place on the new entry staircase
The lava rock bell tower adorns the entrance to the Third World along San Marga
It is the dream of many visitors to dance before Siva, as this family did in the Maha Mandapam of Iraivan Temple
Iraivan Temple Progress
An unusual aerial photo showing the Wailua River flowing past Iraivan and falling into the Nani Kaua pond
In November our neighbor, Bobby Soares and his Garden Isle Roofing team worked for a week to waterproof the roof of Iraivan Temple, while a coppersmith installed new flashing around the perimeter. ¶Great progress was made on the entry steps that lead up from the Wailua River to Iraivan Temple. The first steps have been completed, with the rest scheduled in December. Among the magical features of this staircase are the three black granite elephants placed at the sides, which appear to be climbing the stairs along with pilgrims. ¶Construction of a new pilgrims' path was begun in Rishi Valley, involving the placement of many tons of quarry rock to create a walkway to keep pilgrims' feet dry. ¶We completed the construction of a new moss rock bell tower along the San Marga path—a gift from the team that made the Iraivan lava rock plinth. It heralds the entry to what Gurudeva called the Third World section of San Marga. Next time you visit, remember to strike this bell for the devas to hear.
Satguru Bodhinatha Veylanswami's Activities
Satguru Bodhinatha Veylanswami continued his weekly upadesha in Kadavul Temple on the inspired teachings of Sivaya Subramuniyaswami as found in his book Merging with Siva. Satguru elaborated on two of Gurudeva's earliest talks: "Life the Great Experience," given in 1957 and "The Power of Affirmation," given in 1958. These inspired messages, delivered at the Sutter Street Temple in San Francisco, capture the essence of yoga and Saiva Siddhanta. See Satguru's presentations on our
Kauai's Hindu Monastery YouTube channel
.
Publications and Other Activities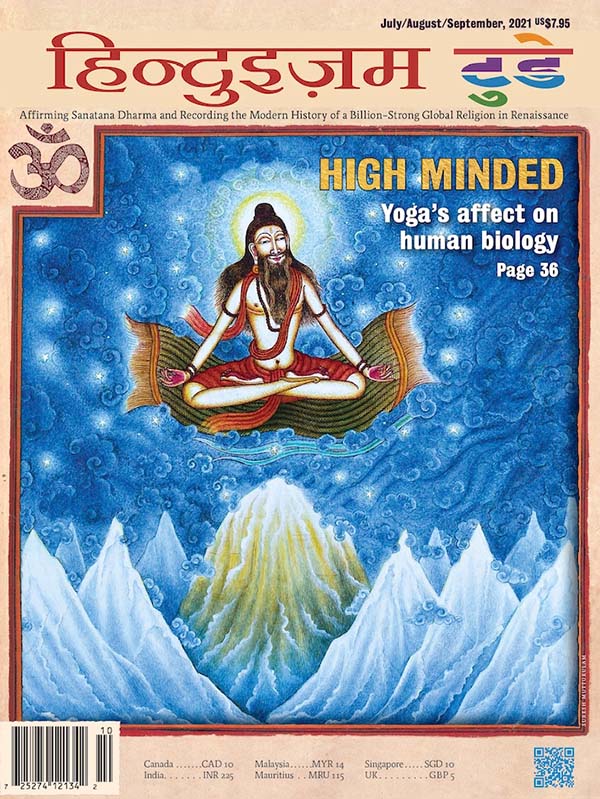 An image representing the July/August/September, 2021 Hindi-Language edition of Hinduism Today
Living With Siva in Russian
The amazingly gifted and motivated team in Moscow (who also publish our
Hinduism Today magazine in Russian
) has done it again. In the past three years they have put Dancing with Siva and Merging with Siva into the Russian language, and now they've added Living with Siva, thus completing the trilogy. Not only do they translate and publish the works of our Gurudeva, but they do it with the same quality control of the Himalayan Academy English editions. We are also pleased to announce the release of our
Hindi language Digital Edition
of Hinduism Today! This first release is a translation of the July/August/September 2021 issue. ¶During the evening of Krittika nakshatra in November, Satguru, the monks and local devotees observed Krittika Dipam. This is a time when God Siva is celebrated as an infinite pillar of light, usually by lighting a large lamp or bonfire to represent the divine and all permeating light of Parashakti. Several monks set up a pillar of dried palm fronds, imbued with large amounts of camphor and ghee. Upon everyone's arrival at sunset, an arati was performed and the fronds were lit in a brightly burning blaze of billowing darshan. ¶For many years visitors to the monastery's Kadavul Temple have been greeted by a fantastically carved wooden Ganesha and Muruga flanking the entrance. Over the years tropical sun and rain have faded the paint on both sculptures. We recently hired two talented island painters to return them to their original vibrancy. Over the course of many afternoons we watched the transformation as bright base layers of paint were added, followed by layers of golden highlights. ¶Visitors to the monastery are always amazed by the rudraksha mala that are made with beads from our own trees. A short video was made by Velika Nataraj showing how the beads are prepared.
See it here
.
Our January 2022 Issue Released
Featured: Mauritius youth on Hinduism
Educational Insight: 14 Common Questions About Hinduism
Hinduism Today's latest issue has gone to press and is now available online free of charge at www.hinduismtoday.com. You can also download our free Hinduism Today app and get the entire magazine in a mobile-friendly format for your device at
hinduismtoday.com/get-the-app/
.
The subtitle of Publisher's Desk by Satguru Bodhinatha Vey­lanswami says it all: "The Upanishads are clear, man is not man, man is God. But actually encountering that amazing reality takes work." He goes on to describe finding God in the temple, seeking Divinity within oneself and seeing God everywhere. Our scriptural excerpt from the Chandogya Upanishad expands upon the same theme, "The Self is all this world."
This issue's feature story is "Mauritius Youth Reflect on Hinduism," the third in our intermittent series on youth. We began with India in January, 2019, then Nepal's youth in the April, 2021, issue. Even though all are based on the same set of questions with personal interviews, the results are different for each country. The youth of Mauritius, in particular, have a fond engagement with religion. Our Educational Insight this quarter is an update of "14 Questions People Ask About Hinduism," one of our most popular articles ever. We publish it every decade or so, tweaking and improving it a bit each time.
Among this issue's dynamic stories, the one on the cover, "Temple management in the Agamas," is most unusual. This has been a contentious issue in India where temples in all states are managed by the state government, and not always well. In her book on temple management, Dr. Deepa Duraiswamy explains how the principles laid down in the Agamic scriptures can and should inform and guide the governing of temples today.
Then there is the resource produced by the Malaysia Hindu Sangam called "Hindu Religion, Common Faith and Practices" which does an excellent job presenting the beliefs and customs common to all Hindu sects. It is intended to serve as a teaching tool in schools and temple classes. We also have two contributions from our Young Writers' program this issue, one on the celebration of Ganesha Chaturthi in California and the other on gender stereotypes in Hinduism. There's an article on the 1995 attacks by Christian evangelist Pat Robertson on Hinduism with an adroit rejoinder by the late Ram Swarup, an influential Hindu intellectual.
Ayurvedic doctor Virender Sodhi offers strategies to avoid diabetes. Our ever popular Global Dharma, Quotes and Quips and In My Opinion sections all present entertaining news and insights from the Hindu world. The Digital Dharma page is on the informative Shivoham YouTube channel.
Monastic Endowments
You Can Help Feed the Monks
The Native Americans had a powerful way of considering the future in every decision they made, stating that "In our every deliberation, we must consider the impact of our decisions on the next seven generations." While it may be challenging to con tinuously consider future generations, there are opportunities we have to focus our energies on creating a world that will benefit and enrich our descendents. This kind of deliberation may begin with taking a thoughtful approach to estate planning. There are many options to craft estate planning in a way that ensures a long-term impact.
Lunch is enjoyed each day in the Courtyard. There are several ways to help support the Hindu monks on Kauai.
First, you may consider a bequest to family and loved ones that is set aside for a specific purpose in the future, such as the next generation's education. This can be a way to have an impact into the future, supporting a loved one's dream even after your passing.
Second, you may think of ways to help a charitable cause you care deeply about. Whether this charity is a museum, a foundation for art, a spiritual enterprise, or an academic institution, this kind of donation can have multiple benefits beyond financial impacts.
A focus on charity can transform the heavy feelings around estate planning into a lighter emotion as you think about causes that inspire you. Your ability to help through estate planning may be greater than your ability to help in your lifetime; according to the IRS, a typical bequest may be almost three times larger than the total amount that a person has donated in their lifetime. Additionally, as a donor, you may have the opportunity to engage more with the charity, allowing you to meet like-minded individuals and infusing your life with meaning.
Many charities, including the Hindu Heritage Endowment, offer targeted ways to give. At HHE, you can choose the exact cause you are donating for; causes range from the Orphanage Endowment to funds specifically focused on the temple gardens, or feeding the monks. This kind of targeted, planned donation allows you to choose exactly how you want your legacy to unfold.
However, it is important to remember that even as we plan for legacies after our life, we should take the time to live our legacies on earth. We can choose to live by the values we hold most dear, sharing those values with our families and communities. We can choose to live with passion, enthusiasm and gratitude. We can share and pass down our stories through journaling; we can choose to spend our time generously with the people we love and serve the causes we care about. The story of a life well-lived, a life of purpose, integrity and love, is an inspiring, incalculably precious legacy that will guide future generations.
To be remembered kindly beyond our life is an aspiration many of us have. Through careful planning and introspection, this aspiration becomes a reality within our grasp. For tips on leaving a legacy for your family check out this web page at:
nationwide.com/lc/resources/investing-and-retirement/articles/leaving-your-legacy
This article talks about leaving a legacy through a combination of money, objects and memories that matter to those around you.
For information on establishing a fund at Hindu Heritage Endowment, contact Shanmuganathaswami at 808-822-3012, ext. 6, or e-mail
hhe@hindu.org
.
Here Is My Contribution to
Help Finish Iraivan Temple
Sponsor Stone Chains & Flooring Stones
Stone Chains: Among the "wonderments" of Iraivan Temple are the stone chains, each carved from a single solid block of granite. In all, 24 such chains, three feet long, will adorn the spaces. Twelve will hang from the corners of the Nandi Mandapam and 12 within the main temple. Asked why these marvelous artifacts are created, the master builder said with a smile, "To show off the extraordinary skill and artistry of the carvers." Of course, they also add an ornate and charming visual masterpiece at the corners, and provoke a sense of awe in pilgrims who encounter them for the first time. The process, which takes around 350 man hours per chain, is so difficult that few have been made in the past hundred years, we've been told. Sponsorship is $10,000 per chain.
Rose Granite Flooring Stones: One of the last remaining large projects for Iraivan Temple is the installation of one-inch thick rose granite flooring stones (sample of the reddish stone below) in the second prakaram, the 6,500 square-foot area surrounding the roofed area of the temple. The diagram at left is a detailed map of the project prepared for the tile supplier and the professional installers The colors indicate the various tile sizes. Sponsorship is $1,800 for each 25-square-foot section.
Donate to Iraivan Temple Here
Donations
Thanks to Our November Temple Builders in 17 Countries
Building Fund Donations: AUSTRALIA: Swarna Balasubramaniam US$30.00; Marie & R. Bhanugopan 216.00; Nagaratnam Jeyasreedharan 20.00; D. Karthigesu Family 200.00; Rama Krishnan 30.00; Vimala Muniandy 64.00; Venkatesh Nagarajan 51.00; Luckshmi & Logan Siva Nirmalananda 35.00; Gunavinthan Siva Thirumalai 100.00; Thanavinthan Siva T. Thirumalai 200.00; Essen Subramanian Valayten 2.27; Chandran & Mathini Wigneswaran 108.00 | BELARUS: Tatsiana Mezhennaya 50.00 | BRAZIL: Leonidas Coutinho 108.00 | CANADA: Poonam Chand 50.00; Peter Christian 50.00; Frederik Jan Elbers 2,016.00; Rathinappillai Logeswaran 50.00; Mailvaganam Mahendran 100.00; Ioana-Gabriela Manoliu 33.00; Changam & Kamachi Naidu 100.00; Vanesh Naidu 27.00; Jayanthi Nikhilanandhan 3,500.00; Mr. & Mrs. Pranavan 50.00; Raghavan Ramanathan 418.38; Vijaya & Thiru Satkunendran 25.00; Dharmalingam & Mangai Selvarajah 51.00; Manickam & Naguleswary Senthivel 501.00; Sivakumaran Sivalingam 42.00; Sara K. Sivasurier 209.19; Saravanamuthu Somasundram 50.00; Riorita Tkatchenko 890.00; Velrithan Velayuthar 1,001.00; Anonymous 221.14 | GERMANY: Tharsika Chelvarajah Vasanthan 20.00; Jeeva Velusaami 21.00 | GREECE: Artemis Bimpiza 20.00 | INDIA: Lakshmanan Nellaiappan 10.00; Maragatham Nellaiappan 10.00; Vikram Santurkar 51.00; Anonymous 10.00 | ISRAEL: Alexander Surdyaev 125.00 | ITALY: Cristina Ma Puja Canducci 80.00 | MALAYSIA: Klinik And Surgeri BD 23.58; Nageswarie Apana 57.72; Supramani Apana 57.71; Arulmani Devi Arumugam 142.56; Kamal Bahadur 12.03; Karna Bahadur 4.81; Devinasree Balasegaran 11.79; Om Krittik Balasegaran 11.79; P. Barathi Balasegaran 11.79; Balachander Balasupramaniam 11.79; Balamurali Balasupramaniam 11.79; Hemakheshaa Naatha Batumallah 11.79; Mekaladeva Batumallah 11.79; Rathidevi & Veerasamy Batumallah 23.58; Arulmani Chandra Kumar & Sujith Arulmani 47.50; Theevhiyaa Chandrasekaram 23.58; Umaabati Chandrasekaram 11.79; Sasikumar Darmalingam 11.79; Sai Sheeny, Sai Janany, Sai Hamsiny, Chandran Ramamurthy & Kalpana Devasagayam 71.25; Omaya Devasagayam 11.87; Kavin Kirav, Shreiyaa, Leena Lakshmi Devasagayam & Anand Kumar Letchumana 47.50; Annapoorani Ganesan 23.75; Yoga Rubini & Chandra Ganth Family 11.79; Mahadevan Gengadaram 200.00; Jitendra Harijan 7.22; R. Jayakumar & Yoga Bhavani Family 23.58; Muthukumar Jeyapalan 2,500.00; M. Shanmuganathan &; A. Kamalambikai 23.58; Anbu Kandasamy 56.00; Murugesu Kandasamy 11.87; Valliammah Kandasamy 11.87; Hari Bahadur Khadka 4.81; Amaraysh, Kumutha & Jarry Lai 11.87; Jay Kumar Mahato 4.81; Nameegri Marimuthu 23.75; Satya Narayan Mochi 4.81; Silvarajoo Muniandy 11.82; Logadasan Murugesu 11.79; Puvana Murugesu 11.87; Gowri Nadason 95.00; Kamalaharan Nadason 23.75; Ponnamah Nadason & Family 11.87; Chandran Nagalingam 100.00; Rasiah Vallipuram & Pathumanithi Nagalingam 23.75; M. Suranthiran Naidu 42.75; Mohanavilashiny Murugesu & Navukarasu 23.75; Yehanthini, Sivatarnee & Dhevashri Navakkarasu 23.75; Nalakini Niranjana 23.75; Palanisamy & Vasande 11.79; Mogan Raju 138.00; Sai Ram 11.87; Supramaniam Ramoo & in memory of Neelavathy Thangavelu 23.75; Pakthakotiswara Rao 11.79; Raagini Ravindren & Senthil Ravindren 23.75; Rajesh Ray 9.62; Jayaraj Kantharaj & Saranraj S-O Jayabalathilagam 14.25; Sanjana Saravan 11.87; Lachmi Savoo 11.87; Doraisami & Mohanasundari Selvaraj 24.00; Parimala Selvaraj 60.00; Ambikabathi Shanmugam Pillay 23.58; Sundar Shahi 7.22; Raja Singam Raja Ratnam & Shreema Rasiah 23.75; Nutanaya Sivaceyon 10.00; Saraswathy & Ramesh Sivanathan 11.97; Mohana Sundari & Sivasekaran 23.75; Girish Skanda 23.58; A. Sockalingam & Chandrasekari 23.75; Devi & the late Selvadurai ; Subramaniam 11.87; Vasanta Tanggavelu 35.37; Sarbesh Gupta Teli 7.22; Thanabalasingam & Manimala 11.79; Remalah & A. Thinathayalan 11.87; Saroja Vasudevan 11.79; Vikneswaran A. Vinsent 23.75; Yuvanes Waran 20.00; Darrshan Letchumanan & Yuvan Letchumanan 47.50; Anonymous 120.00 | MAURITIUS: Soondiren Arnasalon 11.36; Shree Saroja Devi Doorgiat 2.27; Rohit Jogessur 2.27; Darcinee Jugessur 2.27; Mooneenagen Koothan 2.27; Poospawadee Koothan 2.27; Amravadee Kownden 43.18; Kulagan Moonesawmy 2.27; Seedha Lutchmee Moonesawmy 2.27; Revathi Mootoosamy 1.14; Siven Barlen Mootoosamy 2.27; Vimaley Chellen Mootoosamy 2.27; Naden Seeneevasen Pillay 1.14; Kannen Valaydon 22.73; Saroja Valayten 2.27; Toshadeva Valayten 1.14; Ulasa Valayten 1.14; Anonymous 45.64 | NETHERLANDS: Prekash & Sabita Baladien 15.00 | NORWAY: Anil Ananda Badhwar 60.00; Anuradha Badhwar 10.00; Meetu Badhwar-Hansen 10.00 | SINGAPORE: Kala Ramasamy 50.00; Easan, Lavanya & Sivakumar ; Saravan 1,000.00; Kavitha Darshini & Amitpal Singh 73.00; Kamala Devi Vaiyapuri 50.00 | SINT MAARTEN: Gary & Radica Asha Yee-Fong 50.00 | UNITED KINGDOM: Georgiana Lukshmi Dorothy Barnes & Theeba Ragunathan 100.00; Clive & Puvaneswary Roberts 175.00; Sharavanan Selvadurai 200.00; Sharmila Harry & in memory of ; Shree Vishna Rasiah 23.75; Mrs. Uthayasooriyan 132.82; Anonymous 11.00 | USA: Schwab Charitable Fund 750.00; Benevity 9,505.00; The Puppala Family Charitable Trust 1,800.00; Fidelity Charitable 10,101.00; The Oregon Community Foundation 1,000.00; Gyan & Jyoti Ahluwalia 101.00; Asha Alahan 25.00; Kanda Alahan 100.00; Vel & Valli Alahan 25.00; Priya Aloor & Ravi Aloor 101.00; Sunil Aluri 100.00; Palani K. Aravazhi 102.00; Mahesh Areekara 251.00; Rao L. Atluri 25.00; Jay & Hetal Babla 51.00; Dr. Debasis & Dr. Manashi Bagchi 51.00; Bryan Bailey 5.00; Bhama Balakrishnan 51.00; Akhila K. Balaram 25.00; Jim & Nancy Barnhart 108.00; Rupal Shah & Kalpesh Bhavsar 151.00; Venkata Gajjala & Raj Boda 51.00; Monica Borden in memory of Inder Mirchandani 50.00; Laurye Brownfield 201.00; Rama Devi Bylapudi 251.00; Shaila Campbell in memory of Inder Mirchandani 101.00; Gurdial Chadha 101.00; Anil Chagan 51.00; Asha Chaku 160.00; Ajay & Jamuna Chalasani 100.00; Thakor & Pushpa Champaneria 151.00; Uma & Kumar Chandrasekaran 251.00; Jaydeepkumar Chaudhari 101.00; Naren Chelian 102.00; Rameshkumar Chellappan 51.00; Sharath Chigurupati 123.00; Charles Close 216.00; Shyamadeva & Peshanidevi ; Dandapani 54.00; Janakbhai R. Dave 50.00; Ed DeDeo 1,800.00; Paul DeSantis 54.00; Janhavi N. Deshpande 251.00; Chellappa Deva 25.00; Amarnath & Latha Devarmanai 224.00; Venkat Devraj 111.00; Gayathri Dhanasegaran 25.00; Chenguttai K. & Varalakshmi Dheenan 51.00; Aiyasawmy Dorairajan 25.00; Iryna Doroshenko 51.00; Ramya Subramani & Rajesh Ekambaram 211.00; Venu & Sabitha Eppanapally 501.00; Chris & Marty Fernandes 251.00; Suketu & Mita Gandhi 51.00; Panshula Ganeshan 25.00; Prabhansu K. & Sibani Ghoshal 251.00; Ishwarlal Ghutadaria 262.00; Sookdeo T. Gosein 25.00; Hiranya & Saraswathi Devi Gowda 30,000.00; Toshadeva & Kamala Guhan 36.00; Rajitha Gunda 151.00; Adiyan Haran 108.00; Kriya & Sharyn Haran 130.00; Shankar Hari 101.00; Suresh Hathiwala 101.00; David Heitz 50.00; Alison Hunter 108.00; Usharani Iswaran Magaña 45.00; David Jaffe 108.00; Chandrashekhar Jairaman 102.00; Arumugam & Rajammal Jayakumar 1,000.00; L.L. & Uma Devi Jayaraman 51.00; Seetha & Krishnaswamy Jayaraman 51.00; R.S. Jeyendran 101.00; Aravind & Ramya Kailas 50.00; Krishna & Leena Kalghatgi 51.00; Prabhakara & Jyothi Kaliki 108.00; Haran Kandadas 102.00; Anil Kapur 51.00; Srinivas & Shanthi Karri 130.00; Banshi Kashyap 108.00; Raji & Poothappilai Kasinathan 2,500.00; Saravanan & Vasavi Kasthuri 3,160.00; Sundari Katir 40.00; Rajeev Kaul 200.00; Ankineedu Kavuru 501.00; Kavya Kaza 25.00; Michael Kempinski 215.00; Richard Kennedy 10.00; Prem & Urmilla Khilanani 108.00; Kishore Kotta 108.00; Venkatram J. Kowsik 51.00; Andrzej Kraja 100.00; Rajagopal Krishnan 108.00; Vidyul L. Krishnan 501.00; V. & Geetha Krishnaswami 200.00; Ashok Kulkarni 5,001.00; Chitra Saraswathy Kumar 5.00; ; Mel & Karen Kuraoka in memory of Inder Mirchandani 50.00; Gregg Lien 50.00; Gerard & Zhena Linsmeier 52.00; Abha Lokhande 32.00; Arun Maheshwari 501.00; Mallikarjuna Rao Mamidipaka 25.00; Sridevi Boyapati & Krishna ; Manoharan 500.00; Laura Devi Marks 108.00; Subbiah Mathiarasu 51.00; Venu Maturi 116.00; Cindy McGonagle 25.00; Prabhashanker & Bhanumati Mehta 11.11; Udayappan Meyyappan 51.00; Wailua Mission 23,072.00; Rekha Mitra 100.00; Krishna Mukerji 501.00; Venkataraman Muthusamy 51.00; Palani & Selvarany Nadarajah 30.00; Nitya & Becky Nadesan 150.00; Gonguntla V. Naidu 251.00; Manish M. Naidu 11.11; Rama Chandran & Rema Nair 10,000.00; Pramoda Nallur 250.00; Venkat Namburu 301.00; Nandhini Nandakumar 51.00; Sanjaya K. Nath 11.00; Samy Navamani 501.00; Emma & Narendra Nemivant 25.00; Ajaysingh & Sunita Nirwan 251.00; Neelam Oberoi 50.00; Neela Oza 75.00; Siva Palakodety 251.00; Satya & Savitri Palani 51.00; Cassan Pancham 2,400.00; Kavita Pandya 303.00; Pankayatselvan Family 50.00; Easvan & Devi Param 101.00; Janaka & Bhavani Param 10.00; Jothi Param 51.00; Bhavin Parikh 71.00; Parikh Family 101.00; Harish Parmar - Dhanraj Inc. 101.00; Gaurav M. Patankar 101.00; Dipak Patel 108.00; Divyem Patel 101.00; Hari Ohm Patel 25.00; Hemant & Hema Patel 522.00; Mukund & Jyotika Patel 251.00; Sanjay Nayna Patel 501.00; Sonal & Chinmay Patel 151.00; Salik & Sanjia Pathak 51.00; Robert M. Petersen 50.00; Venkat Pichairaman 11.00; Jonathan Pieslak 126.50; Indrathan Hindurajan Pillay 50.00; Ravikshan Pothukuchy 101.00; Pilar Vasudeva Prabhu 108.00; Archana Prasad 251.00; Veerabrahmam Prathikanti 100.00; Raman & Uma Purighalla 1,000.00; Surrender & Girja Raina 151.00; Parthasarathy Rajagopalan 300.00; Deva & Gayatri Rajan 2,002.00; Mohan Deepak Ram 11.00; Janevi Ramaji 202.00; Jeyashri & Venkat Ramakrishnan 50.00; Krithivas Ramamurthy 501.00; Sujatha Ramanna 101.00; Narayanan & Latha Ramesh 1,001.00; S. Prabhakar & Saila Rao 108.00; Sudharsaniam Rathinam 101.00; Uday & Smitha Rau 301.00; Aruna Reddy 50.00; Bhaskar & Tanuja Reddy 101.00; Cliff & Kathy Runge 100.00; Aran Sambandar 144.00; V.R. & Indira Sanda 101.00; Pathmini Saravanapavan 100.00; Sundeep Sardana 101.00; Meera Sastry 101.00; Ganesh K. Saxena 108.00; Noel Scott 108.00; Aran & Valli Sendan 50.00; Sivendiran & Nirooshi Sethuram 108.00; Deva & Amala Seyon 51.00; Manoj H. Shah 100.00; Pragnesh And Shital Shah 101.00; Rajnikant T. Shah 151.00; Megha Sharma 1,008.00; Ravinder & Snigdha Sharma 101.00; Salil Shibad 42.00; Autar Singh 101.00; Sarojani & Vinen Singh 108.00; Vijay S. Singh 301.00; Bageshwari & Achla Sinha 251.00; Biswanath & Mitra Sinha 101.00; Iraja & Nilani Sivadas 108.00; Nirthika Sivakumar 51.00; Dharshi & Sivasothy Sivakumar 150.00; Homa, Hotri, Hridaya & Tejasinha Sivalingam 31.00; Jnana Sivananda 200.00; Lakshana Chetana Sivananda 102.00; Nathan & Sulena Sivananda 108.00; Tandu & Uma Sivanathan 300.00; B. Sivaraja 20.00; Kandiah Sivarajah 51.00; A. Sivaraman 101.00; Keith Sorlie 20.00; C.K. and Vasudha Sridhar 501.00; Kiran Srinivasan 20.00; Padmapriya Srinivasan 25.00; Prem & Archana Srivastava 101.00; Yasotha & Thevarajah Subarajan 51.00; Rattan Sund 251.00; Nandi Deva Sundaram 100.00; Savithri Sundaresan 54.00; Phani Kumar Sureddi 7.00; Karthik Suresh 108.00; Shanthi Suresh 202.00; Shawn Swain 108.00; Sriram Swaminathan Iyer 101.00; Dilip & Sneha Thakar 500.00; N. Thayalakhandan 20.00; Siva U. Thillaikanthan 60.00; Kaushal Tripathi 101.00; Sharad Tripathi 51.00; Prabodh & Nirmala Vaid 108.00; Gaurang G. Vaishnav 501.00; M. H. Vamadevamurthy 200.00; Rama Vangala 116.00; Mythili & N.M. Varadarajan 50.00; Sai & Venkat Venkatachalam 251.00; Ramanathan Venkataramanan 101.00; Mahesh Viswanathan 25.00; Shekar Viswanathan 501.00; Shoba Devi Vittal 251.00; Richard Bosworth & Kerri Watts 202.00; Sundeep Yalamanchi 116.00; Annette Zastrow 10.00; Anonymous 7,939.00 | Total Building Fund $158,926.81 | Iraivan Temple Endowment: Schwab Charitable Fund 500.00; Frank Burkhardt 10.00; Subhash Kumar Choudhary 151.00; Hargunvir Singh 101.00; Anonymous 72.80 | Total Endowment Funds $834.80 | Special Project Donations: Valliammah Kandasamy 11.87; Silvarajoo Munianady 11.82; Gowri Nadason 71.25 | Total Special Project Donations: $94.94 | Grand Total: $159,856.55