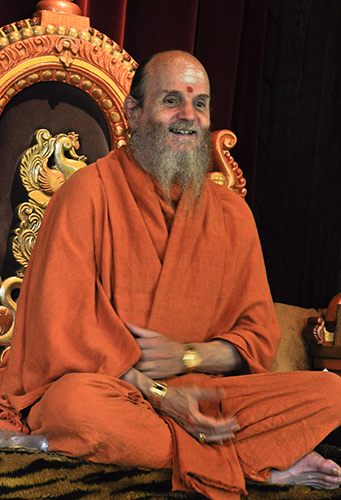 Bodhinatha's Latest Upadeshas – Commentaries on Path to Siva
Who Are the Four Great Tamil Saints? Path to Siva, Lesson 39 (January 17,2018)
Our saints have sung that Siva is within us, and we are within Siva." Having devotion to Siva, having Siva in your heart, offers protection during difficult astrological times. Choose good days for major events in your life and for compatability in major partnerships. Siva is a compassionate God and the way He set up astrology was compassionate; it goes back and forth between positive and negative periods.
Path To Siva, Lesson 39.
Click here to go to an index of all of Bodhinatha's and Gurudeva's online audio.
From Our Gurus' Teachings
Bodhinatha's Latest Upadeshas
Path to Siva Commentaries

Why Should we Learn a Cultural Art?

Become an accomplished human being; soar into the fourth dimension. Artists experience mountaintop consciousness. Having their source in humble devotion to the Lord, Saiva cultural arts: singing, drama, dance, playing musical instruments and creative skills strengthen concentration and are a form of worship. Religious art is an expression of the soul nature, bringing the beauty of the within into manifestation.

---

How Can We Be Strong Saivite Hindus?

Gurudeva: "The time has come for Hindus of all races, all nations, of all cultures, of all sects to stand up and let the peoples of the world know of the great religion of which they are one of the staunch adherents." The first way of learning religion is to memorize its tenants. The challenge of living with Siva means bringing religion into the home, into the family, into our interactions with all other people. Kshama-forbearance and patience. Everything we experience we set in motion. Everything is just the next thing to do. Treat everyone in a friendly and inspiring way. Learn our religion and then live by it.

---

Click here to go to an index of all of Bodhinatha's and Gurudeva's online audio.
Archives are now available through 2001. Light colored days have no posts. 1998-2001 coming later.
Subscribe to RSS Feed