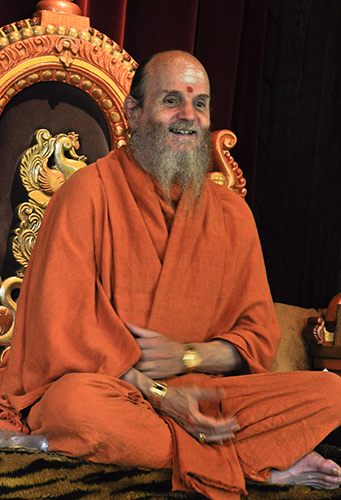 Bodhinatha's Latest Upadeshas – Commentaries on Path to Siva
Who Are the Four Great Tamil Saints? Path to Siva, Lesson 39 (January 17,2018)
Our saints have sung that Siva is within us, and we are within Siva." Having devotion to Siva, having Siva in your heart, offers protection during difficult astrological times. Choose good days for major events in your life and for compatability in major partnerships. Siva is a compassionate God and the way He set up astrology was compassionate; it goes back and forth between positive and negative periods.
Path To Siva, Lesson 39.
Click here to go to an index of all of Bodhinatha's and Gurudeva's online audio.
From Our Gurus' Teachings
Bodhinatha's Latest Upadeshas
Path to Siva Commentaries

How Do We Meditate, Part 2

"Adjust yourself to the realization that you are a divine being, a self-effulgent, radiant being of light."

Jyoti is the Sanskrit word for inner light. To bestow on devotees terms that were more specific, Gurudeva developed the Shum Language of Meditation. In Shum the word for the light that lights up the mind is balikana. During Shum meditation there is an indrawing of forces to realize balikana, a moon-like glow, leading to iftye a deeper kind of inner light which, in turn, leads to milinaka, a sustained iftye which doesn't go away and can be sustained after we've finished our meditation.

Path to Siva, Lesson 47

Twelve Shum Meditations

---

Click here to go to an index of all of Bodhinatha's and Gurudeva's online audio.
Archives are now available through 2001. Light colored days have no posts. 1998-2001 coming later.
Subscribe to RSS Feed