Many many devotees from all over the Earth came to Kauai Aadheenam to celebrate the New Year, worship Kadavul Nataraja and be with Satguru Bodhinatha Veylanswami. On January 1st the long-awaited ceremony took place in the lush tropic setting of Hawaii. Many days and hours of prep took up most of the Siddhidata Kulam work, whilst devotees helped decorate the temple and oil the granite murtis outside.

Please sit back, relax and enjoy a long slideshow of how Kauai Aadheenam celebrates Tiruvembavai.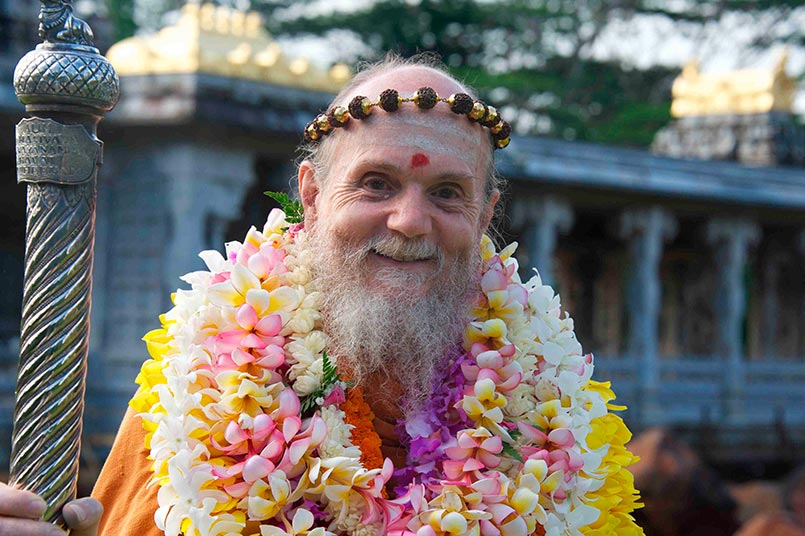 Bodhinatha's Latest Upadeshas - Commentaries on Path to Siva
What Is Our Heritage of Gurus? Path to Siva, Lesson 36 (December 27,2017)

"Since the beginning of time, the power, or shakti, of God Siva has been carried forth by enlightened beings, satgurus." Spiritual progress is achieved through abhyasa, daily practice, and vairagya, dispassion. Dispassion is being detached enough to be getting happiness from inside ourself not outside from the world. Control awareness; find and claim joyousness and peace every day in all environments. "Naam ariyom-We do not know." When we get really deep inside to find the deepest truth it can not be explained.

Path To Siva, Lesson 36.
Click here to go to an index of all of Bodhinatha's and Gurudeva's online audio.
From Our Gurus' Teachings
Bodhinatha's Latest Upadeshas
Path to Siva Commentaries

How Do We Receive Guests?

Treat the guest as God; the guest's heart is more sensitive than the most sensitive flower. If we generously give to others, we will attract more wealth in this and future lives. Siva's followers serve holy men, honor elders, help each others families and grow together in Godliness. Giving to a temple builds punyam; you are helping the temple help humanity. "Charities merit cannot be measured by gifts given, it is measured by measuring the receiver's merit."

Path to Siva, Lesson 52

---

How Do We Use Our Home Shrine?

We need to perfect Ishvarapujana, personal worship, before we can expect to do really well in meditation. "The idea of Ishvarapujana, worship, is to always be living with God, living in Siva in God's house..." Learn the spirit of the puja, learn the spirit of devotion, get deeply into worship in the home. During puja, we're giving prana and devotional energy to the Deity; we receive blessings in return. God isn't living in your house, it's God's house and you are living in it.

Path to Siva, Lesson 53

---

What Are Our Saiva Forehead Marks?

The three stripes of vibhuti across the forehead signify trying to purify ourselves from the influence of anava, karma and maya. There are two ways we're attached to the world, that which gives us pleasure and pain. We're slowly changing our karma over a period of many lifetimes through wise action in the present. With humble action we work on lessening the ego-sense rather than enhancing it.

Path to Siva, Lesson 54 Click here to go to an index of all of Bodhinatha's and Gurudeva's online audio.
Archives are now available through 2001. Light colored days have no posts. 1998-2001 coming later.
Subscribe to RSS Feed