On June 11th morning we celebrated Gurudeva's monthly padapuja to honor his Mahasamadhi on Chitra nakshatra. Thanks to local sishyas for providing new flower arrangements for the occasion. An update of Gurudeva's year-long calendar of quotations will be printed soon, this time including some quotes from Satguru Siva Yogaswami and Satguru Bodhinatha Veylanswami
Aloha all, We were recently reached out to by the owner of a Youtube channel with over 200,000 subscribers called Supreme Yogi. He frequently publishes short videos highlighting the teachings of various Hindu Sages such as Ramana Maharishi and Sri Ramakrishna. Yesterday, with our permission, he posted a 16 minute video presenting some of Gurudevas teaching as well as stories from the guru chronices. The video so far has got over 13 thousand views in only one day! Go check it out and give it a like, if you like. Aum! Here is the video in full!
Jai Gurudeva!

This morning our monks and local shishya celebrated the Chitra nakshatra with their monthly observance in Kadavul Temple. Sannyasin Tillainathaswami and Yogi Haranandinatha performed an abhiskekam at Gurudeva's shrine in Kadavul Temple, while other monks chanting Sri Rudram. Aum

"Devotees seek a satguru who teaches them to understand suffering, and brings them into the intentional hardships of sadhana and tapas leading to liberation from the cycles of experience in the realm of duality." - Gurudeva
Jai Gurudeva!

Over their recent full moon retreat, our monks celebrated the Chitra Nakshatra with our monthly padapuja to Gurudeva. Local shishya were able to attend this month's padapuja as well. Everyone enjoyed Gurudeva's calming presence as Yogi Dayanatha and Nirvani Tejadevanatha performed the abhishekam. Aum.

"There is no place to go except inside yourself." - Gurudeva
The Guru Chronicles is the inspiring tale of our Nandinatha Sampradaya, a spiritual storybook which explores over 2,000 years of the history and lives of seven extraordinary gurus. Gurudeva set the book in motion in Sri Lanka back in 1972. It was decades in the making and was finally printed in English in 2011. Today, inspired by the Hindu New Year, we announce the release of the recently completed Tamil translation of this important book.

You can go here to download the pdf, epub or mobi:
https://www.himalayanacademy.com/view/the-guru-chronicles_ta

To learn about the amazing work required to create the book, go to the web link below which takes you to the English version of the preface.

https://www.himalayanacademy.com/media/books/the-guru-chronicles/web/09_fm_09.html#para-1

And, we will soon upload a version to the web, so that you can read it online.
Every weekend our SSC sishyas conduct online satsang, which Satguru joins partway through to give a presentation. Recently one of the attendees shared a nice testimony, which sishya Jiva Rajasankara in Bangalore heard. He got inspired to connect with the man to find out more about him. His name is Madan Ganesh, with wife Sumathi and two children. It turns out they also live in Bangalore, just a half hour drive away.
Jiva learned that Madan's family found Gurudeva's teachings online a couple of years ago and are now formal students of the Master Course and supporters of Kauai Aadheenam activities. Jiva invited the family to visit the carving worksite to meet in person and see the last two container's worth of temple items being shipped to Kauai. They were inspired to the point of deciding to sponsor the gold earring for Iraivan Temple's new Nandi, and also expressed their wish to become formal sishyas of our parampara some day. Here are a few photos of the family.
Jai Gurudeva!
Jai Kailasa Parampara!

Today we celebrate our monthly padapuja to Sivaya Subramuniyaswami. This morning, Satguru, the monks and our two taskforcers Mayuran and Chandipati Muttulingam, all gathered in Kadavul Temple for the puja. Yogi Dayanatha and Nirvani Tejadevanatha performed today's abhishekam.

"People speak of the light of understanding. Before the bright light of spiritual perception is experienced, the light of understanding must be laid as a foundation of philosophical training and appreciation learning to understand life, for instance, through action rather than reaction. The purified, integrated mind, so perfected in its own understanding, lives in close communion with the soul radiance so that light becomes the constant experience of the mind. It is this to which the yoga student aspires." - Gurudeva
Satguru Bodhinatha Veylanswami gives his weekly upadesha in Kadavul Temple at Kauai's Hindu Monastery in Hawaii. It is part of a series of talks elaborating on the inspired teachings of Sivaya Subramuniyaswami as found in his book Merging With Siva. Here, Satguru discusses "The Self God," a talk given in 1959.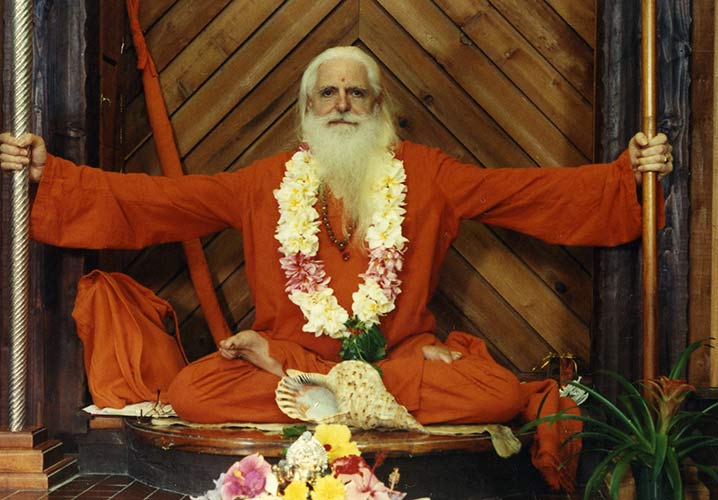 How does an individual gain control of the pranas? One of Gurudeva's insights in this talk is that pranas, our energies, are influenced greatly by the company we keep, and by the sadhanas we perform. Listen to the talk!
Also available on mobile via the SivaSiva.App .
From Our Gurus' Teachings
Archives are now available through 2001. Light colored days have no posts. 1998-2001 coming later.
Subscribe to RSS Feed